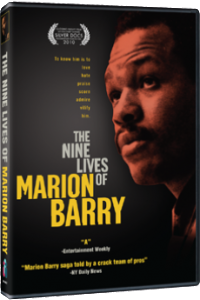 With unprecedented access, The Nine Lives of Marion Barry tells the continuing saga of this despised, beloved and resilient politician. Its the potent story of race, power, sex and drugs; the tale of a complex and contradictory man who is the star of one of the most fascinating and bizarre chapters of American politics. Who is Marion Barry? Cherished hero? Abysmal disgrace? Was he the victim of persecution or did he set himself up? How is he viewed by his enemies, his followers — by Black and White America? For the first time, The Nine Lives of Marion Barry reveals the complete unforgettable story.
"An almost affectionate, only-in-America approach to the activist-turned-mayor-turned-punchline, who is living proof that absolute power corrupts absolutely. A de rigueur disc purchase for political junkies and anyone who followed Barry's very public downfall." -Variety
"A" – Entertainment Weekly
"All the fascination, incredulity and dismay that can be squeezed into 80 minutes" – Newsday
"Marion Barry saga told by crack team of pros." – New York Daily News
Produced and directed by Toby Oppenheimer
78 minutes on 1 disc
HOW TO ORDER:
Public Performance and Digital Site Licenses are available through Soundview Media Partners. To inquire or to place an order, write to info@soundviewmediapartners.com or simply choose from the options below:
For group screening prices, please inquire.
In-home/personal use copies are available on Amazon: http://amzn.to/2aim4Dh
WATCH THE TRAILER