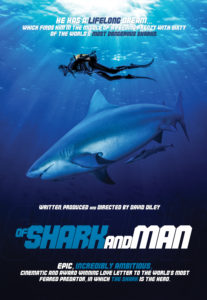 "Of Shark and Man" is an independent film that follows the journey of David Diley, an ordinary man who pursued his childhood love of sharks and uncovered one of the greatest conservation success stories of all time in the process. He gambled everything he had to tell this inspiring story.
Shark Reef Marine Reserve in Fiji, is home to one of the world's largest population of bull sharks, attracting thousands of tourists every year to this quiet and untouched tropical paradise. Of Shark and Man takes its audience into the home of these huge animals, sharing in David's experience as he learns about their significance to the ocean, but also to the history of this incredible community.
This is the first time that the conservation success story of the Shark Reef Marine Reserve has ever been comprehensively documented and showcased to the world. Inspired by the classic shark films of the 1970's, David's mission was not only to share the story of Fiji, but to capture the majesty of sharks.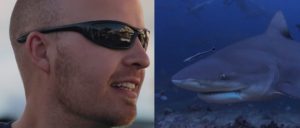 The critical acclaim surrounding Of Shark and Man is extraordinary:
"This story is not just a diary of a more exciting than usual vacation…there is a strong, continuous conservation message. Of Shark and Man brings the argument for or against shark diving and shark feeding stations to the forefront. The movie illustrates many of the threats to sharks, and there is a point in the movie where the casual assertions of a poacher harshly serves as a visceral reminder of just how vulnerable sharks are to shark finning, poaching, and over fishing." – Deeper Blue Ocean Advocacy
"Not only is it a remarkable film, showcasing a side to sharks we've never seen, it's an entertaining, grounded and informative experience." – Taryll Baker (UK Film Review)
"The last dive scene in Of Shark and Man is the best 10 minutes of shark film I have ever seen…" – Angelo Villagomez (Shark Conservationist)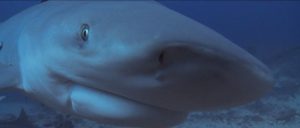 The film's awards and nominations are too many to list. Below are just a few:
Winner – Best Cinematography (Documentary) / Berlin International Filmmaker Festival
Winner – Best Film (Organiser's Choice) / Cine Submarino de Aguimes
Winner – Best Editing / Nice International Film Festival
Nominated – Science and Education Award / Berlin International Filmmaker Festival
84 minutes on 1 disc / 2015 / A film by David Diley
HOW TO ORDER:
Public Performance and Digital Site Licenses are available through Soundview Media Partners. To inquire or to place an order, write to info@soundviewmediapartners.com or simply choose from the options below:
For group screening prices, please inquire.
In-home/personal use copies are available on Amazon: http://amzn.to/2ECEjA4
WATCH THE TRAILER