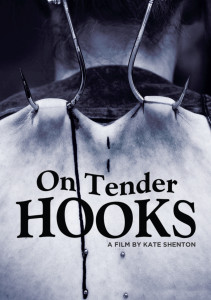 Reveals a subculture of body modification devotees, endorphin junkies and thrill-seeking masochists.
"A fascinating and engrossing doc that is certain to provoke a reaction" – Film 4
An eye-opening documentary exploring the world of human suspension which challenges the perceptions and squeamishness of even the most hardened viewer. 'On Tender Hooks' looks at the body modification and suspension community without judgement and director Shenton – in the spirit of Nick Broomfield – places herself in the film and participates in a session.
In terms of intensity, 'On Tender Hooks' knocks seven bells out of most horror films. Whether you think it's disgusting or intriguing, the film is a fascinating look at a subculture many will find bizarre, even frightening.
Bonus materials contained on the disc include:
GIMP – A Short Film by Kate Shenton
PIG – A Short Film by Kate Shenton
TURN YOUR PHONE OFF – FrighFest Short by Kate Shenton
ON TENDER HOOKS – Directors Commentary
"One of the best things about docs is that they can sometimes give us the opportunity for a little cultural tourism, a chance to peer into a society or sub-culture that we otherwise might not have any contact with. On Tender Hooks definitely does this, and in the process deeply humanizes people that many of us would dismiss as 'those freaky people over there.' It's a joy to watch, even if it does cause a few winces here and there, and at least one audible gasp from me. Check it out." – DVD Talk
"A truthful, beautiful, spiritual journey." —The Soska Sisters, American Mary
70 minutes on 1 disc
HOW TO ORDER:
Public Performance and Digital Site Licenses are available exclusively through Soundview Media Partners. To inquire or to place an order, write to info@soundviewmediapartners.com or select from the License Options below:
In-home/personal use copies are available on Amazon: http://amzn.to/1MXuzvk
WATCH THE TRAILER