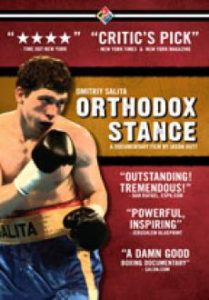 A NY TIMES Critic's Pick!
For  60+ years, the term "Jewish boxer" has been an oxymoron. But Dmitriy Salita, a 25 year-old Russian immigrant made history as a top professional boxer and a rigorously observant Jew.
While providing an intimate, 3-year long look at the trials and tribulations faced by an up and coming professional boxer, ORTHODOX STANCE is a portrait of seemingly incompatible cultures and characters…boxing promoters, trainers and Orthodox Rabbis…working together to support Dmitriy's rare and remarkable devotion to both Orthodox Judaism and the pursuit of a professional boxing title. In the end, the film is about more than just boxing and religion, but a young man's search for meaning in life.