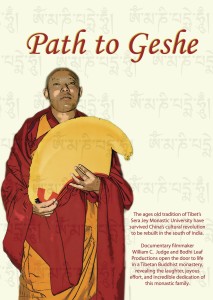 PATH TO GESHE.
The timeless traditions of Tibet's Sera Jey Monastic University have survived China's cultural revolution to be rebuilt in the south of India, and captured on film with unprecedented access by filmmaker William C. Judge.
Path to Geshe immerses you in the color-rich world of a Sera Jey Monastic University, a world of unexpected laughter and joyous effort set against the rigors of monastic study and intense dedication to the Buddha Dharma.
Resonating with the profound sounds of devotion and filled with beautiful iconic imagery, Path to Geshe will carry you to the heart of Tibetan culture and wellspring of the Buddha Dharma.
Featuring an original score by Joseph Patrick Moore
2011 / 35 minutes / color
HOW TO ORDER:
Public Performance and Digital Site Licenses are available exclusively through Soundview Media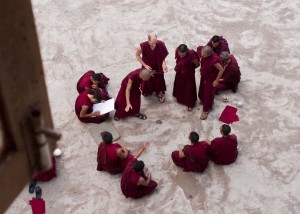 Partners. To inquire or to place an order, write to info@soundviewmediapartners.com
.
DVD w/PPR: $175
DSL 1 yr: $300
DSL 3 yrs: $400
DSL 5 yrs: $500
For group screening prices, please inquire.
View the trailer: