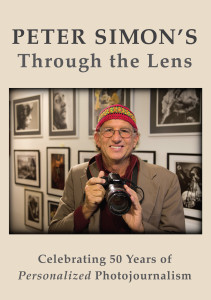 PETER SIMON'S: THROUGH THE LENS
Celebrating 50 Years of Personalized Photojournalism
Peter Simon: Through the Lens not only tells the story of photojournalist Peter Simon's long career, but also the story of America through his camera lens. Simon personally narrates the DVD adding important commentary to some of his best work including photos of the turbulent 1960′s anti-war movement, his shots of cultures around the world and some of the iconic figures in music that he's captured. His rock photos include the Beatles at Shea Stadium, Led Zeppelin, The Grateful Dead, Bob Dylan, Bob Marley, and Jim Morrison. Through The Lens also shows Peter Simon's love for his home in Martha's Vineyard, shooting its natural beauty.
Peter Simon's work has appeared in many newspapers and magazines throughout the years including Time, Newsweek, People, Village Voice, Atlantic Monthly, Cape Cod Life, Boston Magazine, New York Magazine, The New York Times, and Rolling Stone. He has additionally published 14 books including I and Eye, Reggae Scrapbook, On the Vinyard, and Playing in the Band through such publishers as Doubleday, St. Martins Press, Little Brown and more. Through the Lens is his first DVD.
The 2 DVD set is packed with over 300 images and many interesting anecdotes from behind the scenes that helped to create Peter Simon's classic body of work. Follow history as Peter documents alternative lifestyles, the boomer generation and much more. It's a must for any Peter Simon follower, photo enthusiast, and a boon for any baby boomer!
A bonus section includes FAQ's and his top 10 components for making a great photograph.
240 minutes on 2 discs.
HOW TO ORDER:
Public Performance and Digital Site Licenses are available exclusively through Soundview Media Partners. To inquire or to place an order, write to info@soundviewmediapartners.com or select from the License Options below:
For group screening prices, please inquire info@soundviewmediapartners.com
In-home/personal use copies are available on Amazon: http://amzn.to/1fm4T1s
WATCH THE TRAILER