Exotic, gorgeous and often brutal. Based on the voyages of 16th-century explorer Fernão Mendes Pinto, one of the first Europeans to sail to the Orient.
Pilgrimage is a remarkable imagining of the historic voyages of 16th-century explorer and writer Fernão Mendes Pinto, one of the first Europeans to sail to and travel the Orient– India, Japan, and places in between.
Choral renditions of Portuguese singer-songwriter Fausto's progressive 80's pop album Por Este Rio Acima add inspiration to a lush period drama.
Mendes Pinto's autobiographical book, which inspired the movie, was highly controversial when published in the 17th century because some of the tales spun in it were critical of the Catholic Church or deemed fictional by so-called experts. But acclaimed veteran director Joao Botelho (Os Maias: The Story of a Portuguese Family) has decided to treat it all as fact, which makes for a sweeping epic seafaring experience.
OFFICIAL SELECTION – Lisbon Sintra Film Festival
WINNER – Best Make-Up / Special Effects, Portuguese Film Academy Sophia Awards 2018
NOMINEE – Best Director; Best Adapted Screenplay; Best Cinematography; Best Original Music; Best Editing; Best Actor (Cláudio da Silva); Best Supporting Actress (Catarina Wallenstein), Portuguese Film Academy Sophia Awards 2018
Portugal's Official Entry for Best Foreign Film, Academy Awards 2019
OFFICIAL SELECTION – European Union Film Festival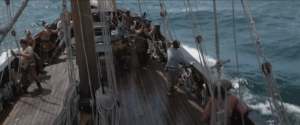 "Pilgrimage" is the kind of movie one fears is going out of style forever. A historical action drama, serious in tone and intent but also invested in delivering movie-movie thrills." – RogerEbert.com
"An equally ambiguous and artificial film object in three chapters, which combines literary storytelling, imagined family stories, theatre-driven performances and musical sequences." – Cineuropa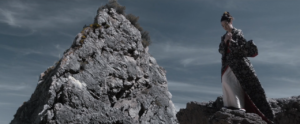 Foreign Drama, Action, Adventure, History (Portuguese w/English subtitles) / 2017 / 108 minutes / Color / 16×9 / A film by João Botelho (Os Maias: Cenas da Vida Romântica)
HOW TO ORDER:
Public Performance and Digital Site Licenses are available through Soundview Media Partners. To inquire or to place an order, write to info@soundviewmediapartners.com or simply choose from the options below:
For group screening prices, please inquire.
In-home/personal use copies are available on Amazon: https://amzn.to/34BXAPi
Watch the majestic teaser
Watch the trailer (Note: this is the original Portuguese trailer with no subtitles. The film on DVD or via digital is subtitled in English).