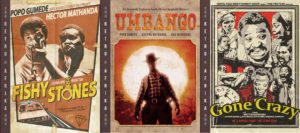 Retro Afrika is an ongoing project comprised of digitally-remastered classic Apartheid-era films, produced by and starring native South Africans. It pays homage to Hollywood action in groundbreaking B-movie style, a precursor to today's burgeoning Nollywood industry.
The Phase 1 grouping consists of the first three installments and is available at a 30% discount when purchased as a group.
The three films in Phase 1 can be read about in more detail using the hyperlinks provided below.
UMBANGO: In the wild west of KwaZulu-Natal, Jack and Owen, two friends accused of murder, prepare to fight back against KK, a powerful, ruthless businessman bent on revenging his dead brother.
FISHY STONES: A poorly-executed jewelry store heist finds two amateur thugs on the run from the cops.
GONE CRAZY: In this now cult romp, a psychopath seeking revenge on a small town mayor steals a mega-bomb from a local research facility, planning to blow up the dam and drown the town.
HOW TO ORDER:
Public Performance and Digital Site Licenses are available through Soundview Media Partners. To inquire or to place an order, write to info@soundviewmediapartners.com or simply choose from the options below:
For group screening prices, please inquire.