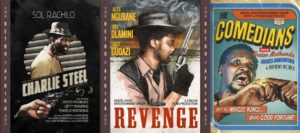 Retro Afrika is an ongoing project comprised of digitally-remastered classic Apartheid-era films, produced by and starring native South Africans. It pays homage to Hollywood action in groundbreaking B-movie style, a precursor to today's burgeoning Nollywood industry.
The Phase 2 grouping consists of three additional installments and is available at a 30% discount when purchased as a group. Included in this phase 2 group are the following titles which can each be read about in more detail using the hyperlinks below:
CHARLIE STEEL (1984): A classic-style detective story. When Dlamini's daughter, Dudu, is held for ransom, he calls on Charlie Steel, an old friend and renowned private investigator. Steel attempts to infiltrate the kidnapping gang, but is exposed by a vicious gang-member.
REVENGE (1985): In the Wild West of old Africa, a homesteader moves to a vacant farm in search of a new life. His hopes are shattered when his son is badly beaten and his wife is murdered by a gang of ruthless thugs
THE COMEDIANS (1980): Fortune-seeking hustler Ace Bona borrows his reluctant friend's magic ring in the hopes to make himself a rich man only to find that his greed is uncontrollable.
HOW TO ORDER:
Public Performance and Digital Site Licenses are available through Soundview Media Partners. To inquire or to place an order, write to info@soundviewmediapartners.com or simply choose from the options below:
You may want to explore our Retro Afrika Phase 1 Collection as well.