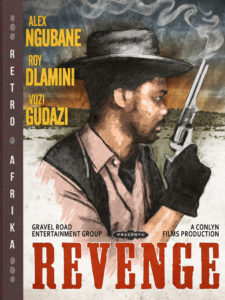 "Revenge" is the fifth release in the Retro Afrika Collection. The ongoing project is comprised of digitally-remastered classic Apartheid-era films, produced by and starring native South Africans. It pays homage to Hollywood action in groundbreaking B-movie style, a precursor to today's burgeoning Nollywood industry.
In classic "B-western" styled action, an ex-gunslinger / good Samaritan trains a peace-loving homesteader in the art of revenge. In the Wild West of old Africa, the homesteader moves to a vacant farm in search of a new life. His hopes are shattered when his son is badly beaten and his wife is murdered by a gang of ruthless thugs.
Left for dead in the dirt, he's revived by an ex-gunslinger whose hermitage in the hills is the perfect place for training rescued victims to not only protect themselves but to seek revenge.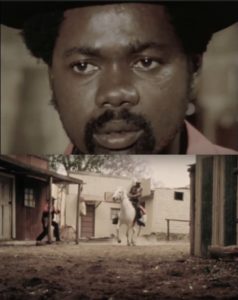 Produced and directed by Coenie Dippenaar (An African Affair), the 1985 film features Alex Ngubane (Sky Full of Diamonds), Roy Dlamini (Platoon Leader) and Vuzi Gudazi.
1985 / 56 minutes / color / Zulu with English subtitles / A film by Coenie Dippenaar
HOW TO ORDER:
Public Performance and Digital Site Licenses are available through Soundview Media Partners. To inquire or to place an order, write to info@soundviewmediapartners.com or simply choose from the options below:
For group screening prices, please inquire.
In-home/personal use copies are available on Amazon: https://amzn.to/2E37fnb
Watch the trailer…