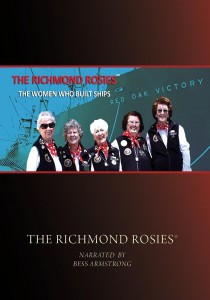 Originally broadcast on KQED.
The Richmond Rosies were part of the vanguard of women during WWII who left their homes to take jobs that were once the exclusive domain of men. From 1942 to 1945, they helped build 747 Victory and Liberty ships at the Kaiser Shipyards in Richmond, CA, the largest shipyard in the world at that time.
The 5 featured women in the film became "Rosies"; short for Rosie the Riveter. They became journeyman welders, pipe welders, draftswomen, and electricians. And they built ships. Big ones… and lots of them. By the end of the war, women made up 60% of Kaiser's workforce which included the Oregon facility.
This film was made to honor the American women who helped to win a victory for their country as well as themselves. Individually and collectively they were part of a massive woman's movement and helped give birth to a new, and very independent American woman with their ambition, guts, skill, and fierce independence.
These are "The Richmond Rosies". These are the women who built ships.
About the Director
Ken Stewart is a multi-award winning writer-producer-director who began his film career in theatrical marketing for Paramount Pictures, later moving to Columbia Pictures. His tenure at both major studios spanned 10 years. During this time he created the first-ever musical film trailers for "Footloose", "Officer and A Gentleman" and "Flashdance." Ken is a voting member of the Academy of Motion Picture Arts & Sciences, the Directors Guild of America, the Screen Actors Guild, and the Publicist Guild.
44 minutes on 1 disc
HOW TO ORDER:
Public Performance and Digital Site Licenses are available through Soundview Media Partners. To inquire or to place an order, write to info@soundviewmediapartners.com or simply choose from the options below:
For group screening prices, please inquire.
In-home/personal use copies are available on Amazon: http://amzn.to/2cUKdhU
WATCH THE TRAILER