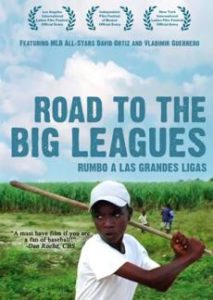 The Dominican baseball movie Road To The Big Leagues focuses primarily on the importance of baseball in the Dominican Republic.
Baseball in the Dominican Republic is not just a game. For many Dominicans the long, competitive road to a professional baseball career is one of the few viable alternatives to a life of poverty.
RUMBO A LAS GRANDES LIGAS (ROAD TO THE BIG LEAGUES) introduces you to the young men who embark on this odyssey and shows you first hand the pressure and joy that go along with it. Through the eyes of local kids playing with pebbles to the perspective of Dominican major league stars David Ortiz and Vladimir Guerrero, this documentary reveals a side of 'America's Game' that few have ever seen before. The Dominican baseball movie Road To The Big Leagues is a must see.
"..a must-have film if you are a fan of baseball! This is a gripping story that gives you a deep appreciation of what the game of baseball means to an entire nation! I was hooked from the beginning and couldn't turn it off. A truly fascinating journey that you can watch over and over again. I applaud the makers of RUMBO A LAS GRANDES LIGAS for giving us baseball fans a wonderful gift." – Dan Roche, CBS
The DVD Edition includes bonus material: 
An exclusive look at David Ortiz training in the Dominican Republic
Behind the scenes at opening day of the Dominican Winter League with MLB stars Hanley Ramirez and Curtis Granderson
Previously unreleased interview with Minnesota Twin Carlos Gomez
Interview with the Director
53 minutes on 1 disc / 2008
HOW TO ORDER:
Public Performance and Digital Site Licenses are available through Soundview Media Partners. To inquire or to place an order, write to info@soundviewmediapartners.com or simply choose from the options below:
For group screening prices, please inquire.
In-home/personal use copies are available on Amazon: http://amzn.to/2tVKHQp
WATCH THE TRAILER