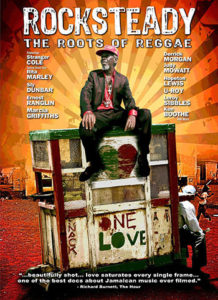 While everyone has heard the music of Bob Marley, the superstar of reggae, few people know that it was Rocksteady, the musical transformation from Ska, that developed the buoyant rhythms, prominent bass pulse, soulful vocals and socially conscious lyrics that gave reggae its power.
It is instantly recognizable from the counterpoint between the bass and drum downbeat, and the slower offbeat rhythms. It is also from rocksteady that reggae took over the use of the bass as a percussion instrument, giving the musical style its most unique and instantly recognizable sound.
Chris May of All About Jazz describes it perfectly:
"Rocksteady—the transitional Jamaican style between mid 1960s ska and early 1970s reggae—was a slow burning orgasm of three part harmonies, irresistibly catchy tunes, deft picking guitars and jazz-informed horn arrangements. The tempos were slower than ska's but faster than reggae's, and the rhythms lively but sensuous: rocksteady was intended for couples to dance to. It's a soulful, mellifluous mixture and one that can still transport the listener three decades later."
Stascha Bader's "Rocksteady: The Roots of Reggae" features a mix of studio recording sessions at Tuff Gong Studios, rarely seen archival footage from the period and incredible interviews with some of the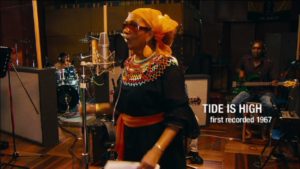 prominent performers in their homes or at places on the island that had profound effects on their music and their lives.
The film includes performances and cameos by Rita Marley, Sly Dunbar, Earnest Ranglin, Marcia Griffiths, Derrick Morgan, Judy Mowatt, Hopeton Lewis, U-Roy and many more! DVD bonus includes an entire reunion concert of Rocksteady stars.
"Poverty, oppression and exile are all themes here. Marley's widow, Rita, takes us on a tour of the impoverished community of Trenchtown and talks about how you can hear the yearning for a better life in the music, which eventually merged into the more militant themes of reggae." – Repeating Islands
"While nothing could ever quite replace the original makeshift magic of the first-time recordings of these tunes, Rocksteady: The Roots Of Reggae gets surprisingly close. A glorious rewind." – All About Jazz
"…brings the stories and history of it all together" – ReadJunk
Cast List:
Gladstone Anderson
Ken Boothe's
Stranger Cole
Marcia Griffiths
Derrick Lara
Hopeton Lewis
Rita Marley's
Sylvanus Moore
Derrick Morgan
Judy Mowatt
Dawn Penn
Leroy Sibbles
Carlton Smith
The Tamlins
U-Roy
98 minutes / 2009 / A film by Stascha Bader
HOW TO ORDER:
Public Performance and Digital Site Licenses are available through Soundview Media Partners. To inquire or to place an order, write to info@soundviewmediapartners.com or simply choose from the options below:
For group screening prices, please inquire.
In-home/personal use copies are available on Amazon: http://amzn.to/2heIOoN
Watch the trailer