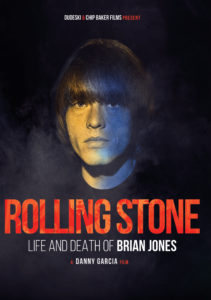 As a founding member of the Rolling Stones in 1962, Brian Jones was regaled as rock-and-roll royalty . "Rolling Stone" explores the rise of Jones and the Rolling Stones as well as his untimely 'shrouded in conspiracy' death.
Acclaimed director and rock music historian Danny Garcia (Looking for Johnny, Sad Vacation, STIV) paints a revealing picture of an incredibly talented but doomed pop star.
"Beautifully put together and engrossing from start to end"—Irvine Welsh (author of Trainspotting)
Lewis Brian Hopkins Jones (28 February 1942 – 3 July 1969) was an English musician and composer best known as the founder and original leader of the Rolling Stones. Initially a slide guitarist, Jones would go on to play a wide variety of instruments on Rolling Stones recordings and in concerts, including rhythm and lead guitar, sitar, dulcimer, as well as a variety of keyboard and wind instruments. Jones and fellow guitarist Keith Richards developed a unique style of guitar play that Richards later referred to as the "ancient art of weaving" where both players would play rhythm and lead parts together; Richards would carry the style on with later Stones guitarists and the sound would become a Rolling Stones trademark.
The DVD version of the film features an assortment of extras including
Behind the Scenes
Deleted Scenes
Scott Jones Files (no relation to Brian, Scott Jones was an investigative journalist who turned over his work to police investigating Brian Jones death)
"A frank, attention-stealing tribute" – Louder Than War
"After chronicling the highs and low points of Jones' formative and professional years, we delve into the mysterious circumstances surrounding Jones' drowning death. Conspiracy, murder, suicide or mistake? Whatever the case, sadly, it's obvious that time was not on his side. Highly Recommended" – I. Slifkin for The Sound View.
2020 / 90 minutes / color / English / A film by Danny Garcia
HOW TO ORDER:
Public Performance and Digital Site Licenses are available through Soundview Media Partners. To inquire or to place an order, write to info@soundviewmediapartners.com or simply choose from the options below:
For group screening prices, please inquire.
In-home/personal use copies are available on Amazon: https://amzn.to/3hpZ70M
Watch the trailer