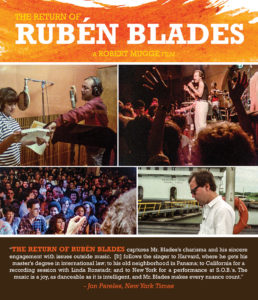 Robert Mugge's portrait of actor, writer, attorney, activist, and Grammy Award winning world music artist Ruben Blades.
"THE RETURN OF RUBEN BLADES is an elliptical essay on politics and culture…a lovely and leisurely impressionistic documentary…somewhere above and beyond the realm of ordinary documentary journalism". —Noel Weyrich, City Paper (Philadelphia)
"Robert Mugge is a filmmaker with a music critic's sensibility. His good taste in subjects is matched by the subtle way in which he lets his movies reveal all the music that fits. The result is filmmaking that informs and entertains, and in the age of overblown music videos and the blatantly artful hard sell of music, Mugge's movies are a relief to watch.
For salsa fans, THE RETURN OF RUBEN BLADES is a must-see. Politicos looking for a credible and humane view on the fire down below our borders, and people interested in the evolving dynamics of pop culture will likewise find engaging ideas and insights in Mugge's effort…a refreshing portrait of an artist with a demonstrative grace and an irresistible beat.
Listening to Blades discuss his work and then seeing him perform it onstage with his band is a lesson in humility, courage and musicianship. He's an immensely likeable person…a movie natural. What finally emerges in THE RETURN OF RUBEN BLADES is not really a platform for political insight or a profile of the heir apparent to the Latin music traditions of Machito, Tito Puente, and Ray Barretto. The film certainly is ripe with both, but there's a larger, more passionate statement to be made. Mugge's affectionate and smart movie is a vision shared by two soulmates who believe the world can be discovered and better understood through music." – Martin Keller, Twin Cities Reader (Minneapolis/St. Paul)
"THE RETURN OF RUBEN BLADES captures Mr. Blades's charisma and his sincere engagement with issues outside music." — Jon Pareles, The New York Times
Transferred to HD from the original 16mm film and lovingly restored.
Track Listing
BUSCANDO AMERICA
PEDRO NAVAJA
TIBURON
SILENCIOS

MUEVETE
TODOS VUELVEN
MACK THE KNIFE
82 minutes on one bluray disc / 1985
HOW TO ORDER:
Public Performance and Digital Site Licenses are available through Soundview Media Partners. To inquire or to place an order, write to info@soundviewmediapartners.com or simply choose from the options below:
For group screening prices, please inquire.
In-home/personal use copies are available on Amazon: http://amzn.to/2ljqxaK
Watch the trailer