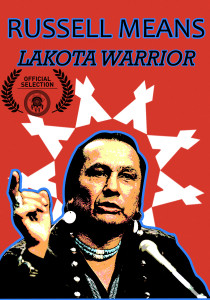 Native American Militant and Activist Russell Means in an exclusive , insightful interview.
In this exclusive interview with Russell Means (11/10/39-10/22/12) at his home in Porcupine South Dakota on the Pine Ridge Indian Reservation, Russell reveals his struggles and life. He reflects on his early years, leaving his home on the "Rez" during WWII so that his father could work on the military ships in California.
Means speaks candidly about racism, the ignorance of mainstream society and Hollywood's portrayal of American Indians which all led to his push to break out of the stereotypical bondage that he fought so hard against.
Means was a controversial militant who believed in justice for American Indians.
Documentary / 2012 / 39 minutes / A film by Leslye Abbey
HOW TO ORDER:
Public Performance and Digital Site Licenses are available through Soundview Media Partners. To inquire or to place an order, write to info@soundviewmediapartners.com or select from the License Options below:
For group screening prices, please inquire.
In-home/personal use copies are available on Amazon: http://amzn.to/1UpANh4
WATCH THE TRAILER

1X38