Samson and Delilah are part of the Australian aboriginal culture. Their story takes place within an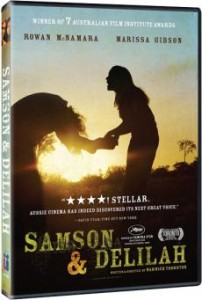 isolated aboriginal tribe that lives in the great sandy desert of Australia; the largest desert in Australia.  Their tale is one of those thrilling teenage love stories that involves two adolescents discovering the signs of true love. But, the circumstances are far different and thus make this telling of the Samson and Delilah story unique, insightful and culturally eye-opening.
7x Winner/5x Nominee, Australian Film Institute
Winner, Golden Camera, Cannes Film Festival 
Winner, Best Film, Amazonas Film Festival
Winner, Best Film, Dublin International Film Festival
Samson and Delilah share custom aboriginal traditions such as educating themselves about Australian aboriginal history, creating aborigine art, participating in the aboriginal religion, sharing aboriginal stories, using aboriginal words, and passing down aborigines facts about the culture of Australia to the younger children in their community. These customs are very conventional for the indigenous people of Australia. Everything in Samson and Delilah's community happens in a cycle.
"Viewers may not realize how far they've been pulled in until the movie ends, and they might feel a sense of loss that it can't keep going just a little while longer." – The Onion
"The emotional punch that Samson and Delilah delivers is one of those rare things in cinema which doesn't come along very often. And when it does you feel like falling down on your knees in gratitude." – ABC at the Movies
Watch the Trailer