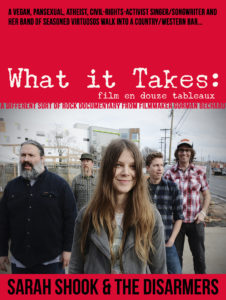 There's never been a band like Sarah Shook & The Disarmers. Their music incorporates country-punk and twang, with shades of outlaw and rebellion. This hybrid doc/feature tells their story on the heels of their incredible success.
A vegan, pansexual, atheist, civil-rights-activist singer/songwriter and her band of seasoned virtuosos walk into a country/western bar. The film provides an intimate glimpse into songwriting, music production and the balancing of life versus passion as Shook and the band then head into the studio to record their new album "Years," and prove they have what it takes to shake up country music.
The official albeit long name of the film is "Sarah Shook & the Disarmers: What it Takes: Film en Douze Tableaux".
Sarah Shook said about her own songwriting "I don't think I measure my songs by how good they are. I measure them by how honest they are", and so goes the mission of The Disarmers.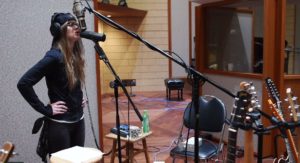 Music site If It's Too Loud wrote about the film saying "Film documentaries are typically put out by a record company as a way to cash in on an artist and are little more than fluff pieces, or they focus on drama within a band. What it Takes: film en douze tableaux doesn't do any of that. While Bechard is an obvious fan of his subject, he shows them as is, and doesn't try to show them glossed over or hyped up."
The DVD version features extensive bonus material including
Commentary with director Gorman Bechard and editor Chloe Barczak
Sarah's Tattoos
Guilty Pleasures
Favorite Songs/Least Favorite Songs
Horror Stories from the Road
John Howie Jr Explains Rock 'n' Roll Drumming
John Howie Jr's Love for Country Music
Aaron's Team
Sarah Writes Another Song – Part 1
Sarah Writes Another Song – Part 2
Sarah Writes Another Song – Part 3
"The constant is the music: unflinching yet refreshing, weary yet insistent, steeped in honky-tonk but laced in punk, with powerful instrumentals matched by lyrics that don't and won't hold back." – New Haven Independent

"That attitude inhabits her songs, where she personifies tough women who have suffered some pain but are equally capable of inflicting the same. The whole package comes together in that voice: equal parts anger and regret, soul and sacrifice" – Pop Matters
"Sarah Shook knows exactly how to make good on an opening line like 'I didn't mean to stay out all night drinkin'" – The New York Times
"Sarah Shook is the badass woman we've been waiting years for" – Saving Country Music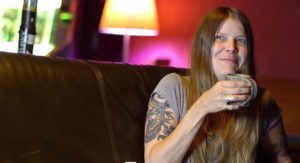 About Sarah Shook:
Shook was born in Rochester, New York. She was home-schooled and grew up in a fundamentalist Christian family where music was restricted. She was only allowed to listen to classical music and worship music. When Shook was 9 years old she taught herself piano. In high school she taught herself acoustic guitar. Her family moved often when she was young. In 2005, when Shook was 19 years old, her family moved to Garner, North Carolina. Shook started her new band, Sarah Shook & the Disarmers in mid 2013. The band started as a recording project with Eric Peterson on guitar, John Howie Jr. (Two Dollar Pistols, John Howie Jr. & the Rosewood Bluff) on drums, Jason Hendrick on bass fiddle, and Phil Sullivan on lap steel.
2018 / 78 minutes / color / English / A film by Gorman Bechard
HOW TO ORDER:
Public Performance and Digital Site Licenses are available through Soundview Media Partners. To inquire or to place an order, write to info@soundviewmediapartners.com or simply choose from the options below:
For group screening prices, please inquire.
In-home/personal use copies are available on Amazon: https://amzn.to/2Sfpcmv
WATCH THE TRAILER

What it Takes: film en douze tableaux – TRAILER from What Were We Thinking Films on Vimeo.