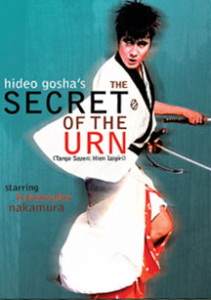 Directed by Hideo Gosha and starring the legendary Kinnosuke Nakamura (Kozure ôkami 1973, The Shogun's Samurai 1978), The Secret of the Urn is the 1966 "remake" of Sadao Yamanaka's classic 1935 film Tange Sazen.
After losing both an eye and an arm to treachery while on a mission for his clan, Samanosuke (Kinnosuke NAKAMURA) becomes a ronin who calls himself Tange Sazen. When a stolen urn that contains the secret to a treasure worth a million gold coins falls into his one remaining hand, all sorts of villains, including a high-ranking Shogunate minister, plot to relieve him of his burden — and his life.
"The Secret of the Urn certainly doesn't succumb to subtlety, as Hideo Gosha retells the story of renegade ronin Tange Sazen in a vigorous and entertaining entry in the samurai genre. Consistently satisfying quality backing up the brisk-paced tale, this release comes with a strong Recommendation." – DVD Talk
"Kinnosuke Nakamura is masterful in the role of Tange, and the secondary cast of characters is great…" – Anime Radius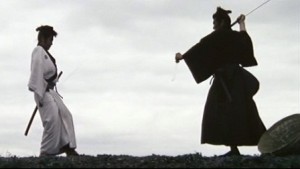 About the director: Hideo Gosha was born on February 26, 1929 in Akasaka, Tokyo, Japan. He was a director and writer, known for Goyokin (1969), Onimasa (1982) and Sword of the Beast (1965). He died on August 30, 1992
91 minutes on 1 disc / prod. yr 1966 / Japanese w/English sub-titles.
Includes several excellent text-based supplements: Program Notes and Bios — as well as an Image Gallery.
HOW TO ORDER:
Public Performance and Digital Site Licenses are available through Soundview Media Partners. To inquire or to place an order, write to info@soundviewmediapartners.com or simply choose from the options below:
SPECIAL NOTE: DSL DELIVERY IS VIA DVD WITH APPROPRIATE PERMISSIONS GRANTED
For group screening prices, please inquire.
In-home/personal use copies are available on Amazon: http://amzn.to/2gWe4f4
WATCH THE TRAILER