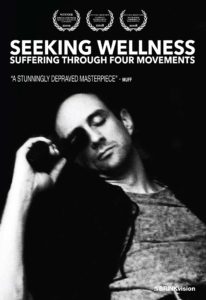 "Seeking Wellness isn't a film, at least not in the traditional sense. It is meant to evoke feelings of shock, horror, unease and ultimately, empathy" – Film Thrills
"Schneidkraut is a force to be reckoned with in the world of underground film, and Seeking Wellness is an inspired and uncompromising exploration of the depths of depravity and suffering." – Movies I Don't Get
"A STUNNING DEPRAVED MASTERPIECE" – Muff
A collection of 4 interconnected conceptual films exploring ideas related to victimization, recovery and empathy.
The four movements (or films) are:
"Cup of Friendship, Shrine of Scars" tells the heroic story of a group of burn survivors during their first painful steps towards recovery.
"Daddy's Time" is the story of how a divorced father tries desperately to develop an emotional connection with his children during the Christmas holiday and fails.
"Malignant Love" is a documentary about Patient 12 and his quest to reunite with a woman who has broken his heart.
"Final Project" is a precise and protracted classroom drama with a spectacular conclusion.
Each film of the 4 movements contains a calculated progression or regression of specific visual motifs.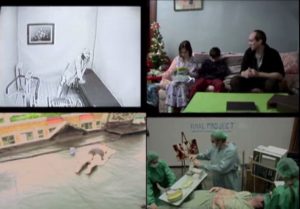 Winner of the Special Jury Prize at Melbourne Underground Film Festival and Nominated for awards at Filmstock International Festival and the Minneapolis Underground Film Festival, Dan Schneidkraut's film contains an original score by Lasse Marhaug and Chris Mars.
2008 / 91 minutes / English language / A film by Dan Schneidkraut
HOW TO ORDER:
Public Performance and Digital Site Licenses are available through Soundview Media Partners. To inquire or to place an order, write to info@soundviewmediapartners.com or simply choose from the options below:
NOTE: The DVD version of this film will be delivered as a DVD-R only. It is not commercially packaged.
For group screening prices, please inquire.
WATCH THE TRAILER