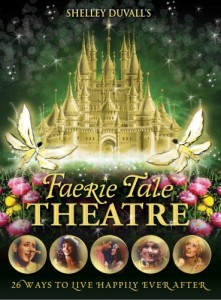 One of our favorite children's collections of all – time, this collection will keep children magically involved for hours upon hours as classic tales are brought to life by a live-action, star-studded cast unparalleled in the world of children's programming!
One of the first gems of the cable TV age, Faerie Tale Theatre brings 26 classic tales to life. Produced over a five-year span (1982-87) for Showtime, Faerie Tale Theatre brought together creative dramatics and whimsical writing with some of the top talents of the day. Executive producer/host Shelley Duvall (who was coming off her breakout role in The Shining) shepherds this mix of theatrical simplicity and grand storytelling for these oft-told tales ("Goldilocks and the Three Bears," "Little Red Riding Hood," "Hansel and Gretel," "Sleeping Beauty," and the like) for kids and their parents. Since they are not elaborately produced, FTT may be a hard sell for some smaller members of the family at first, but most should be hooked, even older kids who may pooh-pooh fairy tales. There's always a slight twist that makes these productions fresh.
The cast is amazing, especially when you think how lightly cable television was thought of in the '80s: Jeff Bridges, Bud Cort, Liza Minnelli, James Coburn, Susan Sarandon, Christopher Reeve, Klaus Kinski, Billy Crystal, Matthew Broderick, Gregory Hines, Eric Idle, Robin Williams, and Mick Jagger are some of the talented–and varied–actors appearing. Crystal's take on the smart "Little Pig" (with Jeff Goldblum as the wolf) and Williams's "Frog Prince" are two comic gems. Malcolm McDowell, right in the middle of his career high-point of playing baddies, brings flair to the Big Bad Wolf, while his then-real-life wife Mary Steenburgen beautifully counterpoints as Red Riding Hood. The casting of Vincent Price and Vanessa Redgrave in "Snow White" is inspired. Also impressive are the directors Duvall pooled: Tim Burton ("Aladdin and His Wonderful Lamp"), Francis Ford Coppola ("Rip Van Winkle") Peter Medak (three episodes), Nicholas Meyer ("Pied Piper"), and Roger Vadim ("Beauty and the Beast"). You can go on for days about these wonderful tales, most totaling around the 45-minute mark, but it's better just to get the set and start wherever you'd like; you will get to the end sooner than you think. –Doug Thomas
Shelley Duvall's Faerie Tale Theatre
brings to life twenty-six of the most magical fairy tales of all time. Directed by such masters of cinema as Tim Burton and Francis Ford Coppola, and star-powered by Robin Williams, Billy Crystal, Mick Jagger, James Earl Jones, Howie Mandel, Christopher Reeve, Susan Sarandon and more, this collection is an unparalleled treasury of best-loved tales of enchantment, adventure and wonder.
Contains 26 Spellbinding Stories Digitally Restored and Re-mastered!
Aladdin and His Wonderful Lamp
Beauty and the Beast
The Boy Who Left Home to Find Out About the Shivers
Cinderella
The Dancing Princesses
The Emperor's New Clothes
Goldilocks and the Three Bears
Hansel and Gretel
Jack and the Beanstalk
The Little Mermaid
Little Red Riding Hood
The Nightingale
The Pied Piper of Hamelin
Pinocchio
The Princess and the Pea
The Princess Who Had Never Laughed
Puss in Boots
Rapunzel
Rip Van Winkle
Rumpelstiltskin
Sleeping Beauty
The Snow Queen
Snow White and the Seven Dwarfs
The Tale of the Frog Prince
The Three Little Pigs
ThumbelinaALSO INCLUDES ENCHANTING EXTRAS:
Lost Episode: "Faerie Tale Theatre's Greatest Moments" ("Grimm Party")
Vintage Faerie Tale Theatre Presentation Reel with Shelley Duvall
B-Roll Promo Footage
ORDER FROM AMAZON TODAY! http://amzn.to/TJeWDx