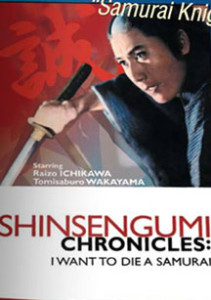 Based on the best-selling novel by Shimosawa Kan (creator of Zatoichi) and directed by Misumi Kenji (Lone Wolf and Cub).
"There are two sides to Misumi Kenji's Shinsengumi Chronicles (aka I Want To Die a Samurai) that are compelling. As a depiction of a particular point in Japanese history, specifically around the suppression of a rebellion in 1800s Kyoto, the political energy it taps into starts slow, but builds to an intriguing simmer within the Shinsengumi's conflict-riddled power struggle…. [and] as a meditation on a idealist's perception of honor amid pragmatic conflicts, it also cracks open to a vein of interesting dramatic moments — especially when the content falls on calls for ritualistic suicide. DVD and the film both come with a firm Recommendation." – DVD Talk
This 2010 action-packed epic stars Ichikawa Raizo as a honest man who joins the Shinsengumi out of admiration for its leader, Isami KONDO (Tomisaburo Wakayama), and because he wants to die as a samurai. But as his involvement grows, reality and idealism come into deadly conflict.
Starring Ichikawa Raizo and Wakayama Tomisaburo (as Kenzaburo Jo).
"The Shinsengumi were the elite police force of the late shogunate period. Some say they were elitists that used violence to get their way. Others say they were honorable men who had to be strict in order to keep peace in the land. Mizumi's film shows a little from column A and a little from column B, making an above average samurai film that gives us plenty of the red stuff but also has some great political intrigue and corruption from the higher ups." – CriterionCast
"…unlike many chanbara directors, Misumi never hesitated to show sword duels for what they were-ugly, chaotic, and bestial" – Shogun-ki
"Of the many films starring Raizo Ichikawa, possibly the hardest working actor at Daiei Studios, Shinsengumi Chronicles lingers in the mind for its portrait of a way of life about to collapse" – Coffee, Coffee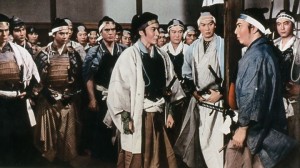 "…a solid chambara film that features fantastic performances by Tomisaburo Wakayama (Lone Wolf and Cub series) and Raizo Ichikawa (Sleepy Eyes of Death series)" – Cinegeek
93 minutes on 1 disc / Japanese w/English sub-titles / 2010
HOW TO ORDER:
Public Performance and Digital Site Licenses are available through Soundview Media Partners. To inquire or to place an order, write to info@soundviewmediapartners.com or simply choose from the options below:
For group screening prices, please inquire.
In-home/personal use copies are available on Amazon: http://amzn.to/2gDuCI0
WATCH THE TRAILER