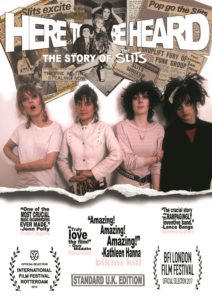 "A fascinating glimpse at a group that thrived on defiance and unorthodox execution" — Gigwise
Contemporaries of The Clash and Sex Pistols and the grandmothers of the musical movement known as 'Punky Reggae', the feature documentary tells the story of the Slits, and the young women pioneers of the mid-70s Punk era.
From a female point of view, the story arc runs from the inception of the group in 1976 to its end in 2010 (with the death of lead vocalist, Ari Up).
When the Slits emerged on the scene in 1976, "girl bands" – and what a condescending phrase that was– were an exotic and scarcely tolerated rarity. They did not want to look pretty or sexy by male standards; they wanted to be tough and rock'n'roll.. There was an enormous amount of misogynist prejudice against them, although this was perhaps hardly noticed in the whirlwind of controversy and anarchy that punk conjured up in those years. It was, after all, a horribly violent culture.
By the early 80's, the Slits were experimenting with new musical forms and had every claim to be considered a real influence both musically and culturally.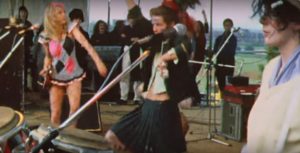 Of the film, The Stranger called it a "long-overdue documentary about the women-dominated group that created one of the greatest albums ever—1979's Cut—is the respectful historical treatment these riot-grrrl precursors deserve. Badgley's scrappy, heartfelt portrait mirrors his subject's DIY aesthetic with a true fanatic's intensity. It may lack polish, but its zeal in telling an important and under-acknowledged story more than compensates for its limitations"
Critic Vivien Goldman summarized the Slits' galvanizing effect on crowds and music journalists: "They looked as topsy-turvy as the music sounded. It was a new paradigm for females. They were provocative and outrageous and were having fun. They weren't manufactured. They didn't give a fuck."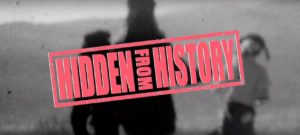 The film World Premiered was BFI London Film Festival in October 2017 and its international premiere was in February of 2018 at The International Film Festival Rotterdam. It was nominated for the Indiemusic Schweppes Award at IndieLisboa International Independent Film Festival and Won for Best Feature Film at the L.A. Punk Film Festival.
The documentary features Viv Albertine, Ari Up, Palmolive, Tessa Pollitt, Bruce Smith, Don Letts, Paul Cook, Dennis Bovell, Adrian Sherwood.
The DVD version includes some very nice bonus material:
Storytime w/Tess Vol 1-6
Archive Reel 76-80
Photo Shoot 1981
Earthbeat Live 1981
"Fizzes with excitement and proves a hearty celebration of their sheer magnificence and lasting influence" —Record Collector Magazine
"One of the most crucial music documentaries ever made" – Pitchfork Magazine
2017 / 84 minutes / color / a film by William Badgly
HOW TO ORDER:
Public Performance and Digital Site Licenses are available through Soundview Media Partners. To inquire or to place an order, write to info@soundviewmediapartners.com or simply choose from the options below:
For group screening prices, please inquire.
In-home/personal use copies are available on Amazon: https://amzn.to/2JWpsVE
Watch the trailer