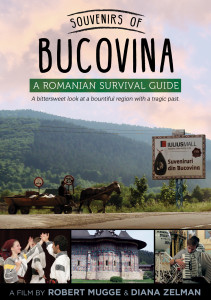 Acclaimed, award-winning filmmaker Robert Mugge's fascinating portrait of Bucovina, a historic region comprising northern Romania and Southern Ukraine.
'SOUVENIRS OF BUCOVINA: A Romanian Survival Guide' is a two-hour documentary about the region of Bucovina which is located on the northern slopes of the central Eastern Carpathians and adjoining plains; which, at various points over the past two millennia, has been conquered and controlled by the Romans, Goths, Huns, Turks, Austro-Hungarians, Nazis, Soviets, and others; and which, since World War II, has been split between Northern Romania and Southern Ukraine.
The film is divided into six parts:
The first examines such enduring treasures of the Bucovina region as its pottery, its native dances, and the Eastern Orthodox monasteries built in the 16th Century by Moldavian princes and decorated with colorful exterior frescoes;
The second introduces multiple generations of a unique Bucovinan family;
The third explores some of the last remaining synagogues and cemeteries of the once-dominant Jewish population which was largely killed off or deported during and after the Second World War;
The fourth explores the Rroma (gypsy) population which was enslaved for 500 years and which (like the Jewish population) was transported to death camps during World War II;
The fifth examines ongoing Bucovinan and Romanian survival skills and compares life under Communism from the 1940s through the 1980s with life under Capitalism and democracy today;
The sixth explores the outbreak of color in Romanian society since the democratic revolution of 1989.
Interviewees include individuals already mentioned as well as the Mayor of Radauti, a local historian, an Eastern Orthodox archbishop, a Ukrainian rabbi, a cemetery caretaker, the president of a local Jewish Federation, and a wide variety of musicians performing regional folk music, gypsy brass band music, dance music, klezmer, piano blues, and heavy metal.
The film was shot in 2011 during a long visit to Northern Romania with a side trip to Southern Ukraine. It was directed by Robert Mugge and produced by Mugge with Diana Zelman.
119 minutes on 1 disc
HOW TO ORDER:
Public Performance and Digital Site Licenses are available through Soundview Media Partners. To inquire or to place an order, write to info@soundviewmediapartners.com or simply choose from the options below:
In-Home/Personal Use Copies are available on Amazon: http://amzn.to/1XV4feJ
WATCH THE TRAILER