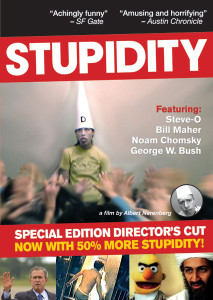 "Amusing and horrifying" — Austin Chronicle
"Clever, hilarious, and perfectly timed." — San Francisco Chronicle
"One of the most entertaining and compelling films of the year." — Willamette Week
Achingly funny" — SF Gate
An alternately enlightening and hilarious documentary from filmmaker Albert Nerenberg, STUPIDITY sets out to determine whether our culture is hooked on deliberate ignorance as a strategy for success. From the origins of IQ test and the word "moron," to Adam Sandler and George W. Bush, STUPIDITY examines the "dumbing down" of contemporary culture.
From the Internet to television to popular film and virtually everything in between, stupidity's stronghold over society has reached an all-time high. Despite the vast potential that mass media holds as a tool of education and self-betterment in modern society, why is it that the masses are so determined to simply turn on the television and turn off their brains at the end of the day? In an era where even the mere mention that mass media may be detrimental to our mental development may prove offensive to the vast majority of consumers, director Nerenberg gathers some of the best-known cultural critics, authors, and academics of our generation for a thought-provoking exploration into the potentially damaging effects of film, television, and other forms of media on the modern mind.
77 minutes on 1 disc / 2006
HOW TO ORDER:
Public Performance and Digital Site Licenses are available exclusively through Soundview Media Partners. To inquire or to place an order, write to info@soundviewmediapartners.com or select from the License Options below:
For group screening prices, please inquire.
IN HOUSE / PERSONAL EDITIONS CAN ALSO BE ORDERED FROM AMAZON: http://amzn.to/1r5bsJO
Watch the trailer