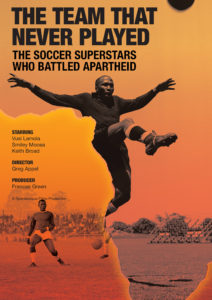 What part did football really play in South Africa during Apartheid?  What if the players from the townships had been able to represent their country?  The Team That Never Played revisits the collision of race, sport and politics through the lives of three very different men and their struggle to end Apartheid.
Keith Broad, Smiley Moosa and Vusi 'General' Lamola are a trio of apartheid era football geniuses who reveal the consequences of football's collision with apartheid.  All three feel that it is important to support and nurture a new generation of players who must carry the flame long after the last whistle has blown in the 2010 FIFA World Cup final to be held in South Africa.
Township talent was about creativity in all aspects of life of which the game of football was the most vivid and appealing expression. The great township players achieved fame and glory without the riches that would have come with international recognition. Football in South Africa took on a special African quality of pace, grace, style and eccentric brilliance which peaked during the 1970s when many commentators thought the national team could have won at least two world cups.
For South Africa, also dominated by rugby and cricket, football was "the blacks' game".  The majority black population was separated out into huge segregated townships like Soweto and this is where the football culture grew.   That football culture was largely responsible for developing the cohesive and energizing spirit of the black people living in the townships during the apartheid era.
Keith Broad is a white player who claims he was both colour blind and non-political in the most turbulent years of segregated society – the 1970's. When he was a student Keith played for a white team against top black teams on 'neutral' ground in Swaziland because it was illegal for teams to play mixed race games in South Africa.   Known to his fans and fellow players as 'the magic man', Keith later joined the Orlando Pirates, 'the people's team', based in Soweto. Vusi 'The General' Lamola is now a priest, but in the 1970s he played for the Kaizer Chiefs and his particular methodical skills with the boot earned him the nick name 'Computer'. Player of the year in 1978 – his approach during the oppression of apartheid was to make the most of what they could — 'football kept us together and out of crime' and the stress of life under apartheid general helped fans relieve the tension. The FIFA ban on international game, however, punished the 'innocent'.  Smiley Moosa was defined as a 'coloured'. He started his playing career as a teenager for a top coloured team – Pretoria's Sundowns. Smiley was so good he was approached by an all-white team. As a nineteen year-old he was picked up by Crystal Palace and then poached by West Ham – until he fell foul of British work permits rules and was deported back to South Africa. Eventually he got into an African team in Pretoria and was good enough to play until he was 36.
Incorporating archival footage and evocative township music, The Team That Never Played tracks the history of football in the home of the 2010 World Cup and the part it played in the dismantling of Apartheid.
A lot of things have changed in South Africa since the destruction of apartheid – and many personal sacrifices went towards that victory – and a lot of people are still waiting to achieve the promises that went with its fall, but international recognition and respect came when the 2010 World Cup was awarded to South Africa.
60 minutes on 1 disc / 2010 / color & b/w
HOW TO ORDER:
Public Performance and Digital Site Licenses are available through Soundview Media Partners. To inquire or to place an order, write to info@soundviewmediapartners.com or simply choose from the options below:
For group screening prices, please inquire.
In-home/personal use copies are available on Amazon: http://amzn.to/2mTjHhz
Watch the trailer