A gripping document of what really happened on Seattle's streets in November 1999.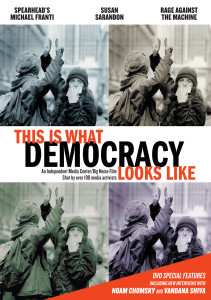 This Is What Democracy Looks Like, a co-production of the IMC and Big Noise Films, weaves the footage of over 100 videographers into a gripping document of what really happened on Seattle's streets. The film cuts through the confusion and tear gas to paint an intimate, passionate portrait of a week that changed the world.
With narration by Susan Sarandon and Spearhead's Michael Franti, and with a driving soundtrack that includes Rage Against the Machine, DJ Shadow, DJ Musaka, and Company of Prophets, This Is What Democracy Looks Like is the first documentary to capture the raw energy of the World Trade Organization (WTO) protests, while clarifying their global and historic significance. The Independent Media Center provided a production infrastructure for over 450 media activists during the WTO protests in November 1999. With autonomous, volunteer-run media centers operating in four continents, ten countries and twenty-one cities, the IMC represents a new and powerful emerging model for independent media.
Narrated by Michael Franti, Susan Sarandon.
"This documentary, like the protest, turns Art into Action." – Village Voice
"…pepper spray to your cynicism" – San Francisco Examiner
"A truly ground-breaking accomplishment! Beautiful, passionate, stunning…it embodies the spirit of the protests." – Naomi Klein
Special bonus features include complete interviews with Subcomandante Marcos and Noam Chomsky, additional video shorts, action guide and photo slideshow.
60 minutes + bonus material on 1 disc
HOW TO ORDER:
Public Performance and Digital Site Licenses are available exclusively through Soundview Media Partners. To inquire or to place an order, write to info@soundviewmediapartners.com or select from the License Options below:
For group screening prices, please inquire info@soundviewmediapartners.com
In-home/personal use copies are available on Amazon http://amzn.to/1TQKbGm
WATCH THE TRAILER