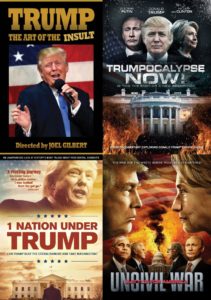 Save 50% on this collection!
Donald Trump's rise to the presidency and ongoing style of leadership are sure to be studied for generations. This film collection consists of 4 explosive exposes about Donald Trump.
Beginning with his campaign tactics through his winning of the presidency, battle with Hillary Clinton for the nation and his unique style of verbal attacks and insults on world leaders, the collection consists of
Uncivil War: Battle for America
What really happened? How did the party of Lincoln become the party of Trump? Was the battle for the White House only the beginning?
Is "the Real Donald Trump" a marketing genius and accomplished performance artist or….?
Donald Trump, his Presidency and his administration continues to dominate the news cycle providing endless 24-hour awareness for this timely documentary.
1 Nation Under Trump was the first comprehensive feature documentary to delve into the zeitgeist of the unstoppable Donald Trump revolution, from the ground floor all the way to the pinnacle of the 2016 American political landscape.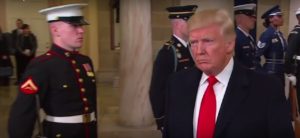 To read about the individual films in the collection and to watch the trailers, simply click the above hyperlinks.
Each is of course available individually, but the collection is being offered at a 50% discount when purchased together.
HOW TO ORDER:
Public Performance and Digital Site Licenses are available through Soundview Media Partners. To inquire or to place an order, write to info@soundviewmediapartners.com or simply choose from the options below:
For group screening prices, please inquire.