VENERABLE GESHE TSULGA: A Single Day in a Lifetime of Practice.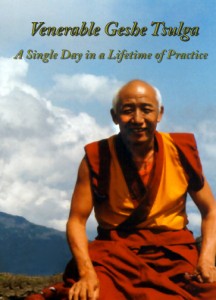 The nomad places of Tibet are some of the most remote locations on the planet.  This wondrous isolation has given birth to some of the most amazing souls of our day.
This wonderful documentary is a glimpse into the daily life of one of them.  Venerable Geshe Tsulga was born to a nomad family in 1936.  He entered the local monastery at the age of eight beginning a lifelong love of the Buddha Dharma. His journey from the plains of Tibet, to the hot dry plains of south India, to his present home at the Kurukulla Center just outside of Boston, is filled with the pain and suffering that only man can inflict on another.  It is also filled with the compassion and wisdom that comes from living the Dharma every waking moment.
Through all of the hardships and suffering, Geshe Tsulga has remained steadfast in his beliefs.  If anything, the pain and suffering he has experienced have only served to deepen his faith.  You need spend only this one day with Geshe la to feel the kindness and compassion from one of Buddhism foremost scholars and teacher.
A film by William C. Judge.
2011 / 26 minutes / Color
ORDER TODAY ON AMAZON http://amzn.to/1njFjgv