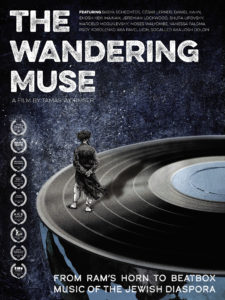 Jews have been wandering for thousands of years, and the cultural dynamics of their music has changed all along the way. From the ram's horn to the beatbox, THE WANDERING MUSE explores the kaleidoscope of music of the Jewish diaspora.
Using instruments as passports for millennia, wandering Jewish musicians are still among us. From ram's horn to beatbox, from Argentina to Uganda, THE WANDERING MUSE explores the kaleidoscope of Jewish identities through the ever-changing music of the diaspora.
"…from Brooklyn to Budapest to Berlin to Uganda…presents a hugely entertaining survey of contemporary music" – American Jewish World
In constant motion, the film is a series of encounters with Jewish musicians from around the world. Taking their music beyond the concert hall, we join in the spontaneous magic of a creative process that transcends the struggles of the musicians' lives.
In an alternative Argentinean bar, two friends play tango-infused klezmer. In rural Uganda, villagers chant Hebrew prayers in East African harmonies. At a Montreal party, an artist mixes hip-hop and jazz with cantorial singing in a multilingual tour de force. In a Berlin apartment, an American harmonizes with a Russian friend in a rendition of an anti-Zionist song from the 1920's.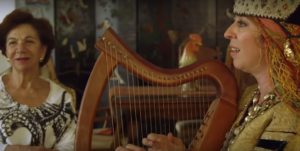 Shattering stereotypes and upending expectations, each scene brings us closer to the nomadic soul wandering in a borderless world of harmonies. With the traditional and the contemporary in continuous dialogue, THE WANDERING MUSE attends to the birth of a dynamic new Jewish music.
Filmed around the globe including Canada, Uganda, United States, Netherlands, Morocco, Hungary, Germany, France, Austria, Argentina, and Russia, The Wandering Muse has had extensive festival exposure including but not limited to
Greater Phoenix Jewish Film Festival
Miami Jewish Film Festival
Beijing International Film Festival
Jerusalem Jewish Film Festival
AICE Australia
Fresno Filmworks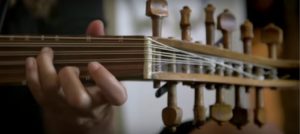 Features Basya Schechter, César Lerner, Daniel Kahn, Rabbi Enosh Keki Mainah, Jeremiah Lockwood, Marcelo Moguilevsky, Moses Walyombe, Psoy Korolenko AKA Pavel Lion, Shura Lipovsky, Socalled AKA Josh Dolgin, Vanessa Paloma
"One needn't be Jewish to enjoy The Wandering Jew – the music speaks for itself – but an understanding of the linkage between religious and folk traditions is useful." – Movie City News
"Explores the history, diversity, and legacy of the music that represents the Jewish identity" – Yes Weekly
2014 / 94 minutes / English and various w/sub-titles / A film by Tamás Wormser
HOW TO ORDER:
Public Performance and Digital Site Licenses are available through Soundview Media Partners. To inquire or to place an order, write to info@soundviewmediapartners.com or simply choose from the options below:
For group screening prices, please inquire.
In-home/personal use copies are available on Amazon: https://amzn.to/2xVApQv
WATCH THE TRAILER