What do you do when love knocks at your door? You take a chance knowing that it may not always come true… but then again… maybe it will! What We Don't Say is a love story about chance…
Ben is an aspiring cartoonist working in commercial video production to survive. He is also recovering from a recent breakup. Lost in self doubt, he dreams of meeting someone special.
Finally, through chance, Ben meets the vivacious and free-spirited Juliette. They form an instant connection, but Juliette has plans of her own…to move away… Regardless, the two decide to spend time together while they can, and as their love for each other grows in intensity, their time dwindles.
With a touch of "You've Got Mail" embedded, Ben and Juliette's story does not stand alone. The film is intricate and multi-layered, presenting many of the sub-themes that challenge a group of 20-something friends finding their way: the complexities of loneliness within a group, the comradery among men, the friendship between women, the interaction amid the genders and the tug of potential gay love all play a role within the story's arc.
It is however the relationship between Ben and Juliette that take center-stage, a relationship that draws you in as it does the two of them.
With an original score by Leviticus and Gabriel George Penner (10k FB likes), What We Don't Say has enjoyed extensive festival play and garnered some prestigious awards along the way including
WINNER: Best of the Fest, Full Bloom Film Festival (2019)
WINNER: Best International Feature, Fort Worth Indie Film Showcase (2019)
SEMI-FINALIST at The Director's Cut International Film Festival (2019)
It has also been an Official Selection in festivals Motion Pictures International Film Festival, YOFI Fest, Out of the Can International Film Festival, Prisma, Film North, The Calgary International Film Festival to name just a few.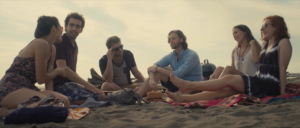 What We Don't Say features a young and exciting cast that includes:
Kougar Vakarian (Lead Male): Nominated for Best Actor for his role in What We Don't Say at The Montreal International Wreath Awards Film Festival, Kougar has also appeared in Party Story (2017), Ask Will (2017) and Straight from the Pole (2015).
Rachel Michetti (Lead Female): Nominated for the Emerging Artist Award at The Calgary International Film Festival, Rachel has also appeared in Beautiful (2014) and Candy Lawrence (2016).
Andrew J Hampton (Supporting Male) has appeared in Supernatural (2019), Atypical (2017) and Confessions of a Hollywood Bartender (2016).
Tim Cakebread: Prior to his supporting role in What We Don't Say, Timothy played Derek in the 2015 feature My Crazy Ex.
Charlie Nesbitt: Charlie is in the upcoming Just for Summer and has appeared in The PI Experiment (2015) and Backward Fall (2013)
"A blending of RomCom and Drama, the introspection of its characters, their inner thoughts and feelings, are the most resounding part of the film." – T. Friedman, The Sound View.
ABOUT THE DIRECTOR
Matt Ralston is a team building perfect example of an award-winning independent writer, director and producer. After years touring in a rock band, he moved cross country to Vancouver aka "Hollywood North" to explore his love of filmmaking. Since moving, he has written/directed and produced What We Don't Say, the dramatic love story which has had great success in the film festival circuit. Playing at over a dozen festivals, the production qualified him for the Directors Guild Of Canada. Now in development on his next feature, Matt's looking to create a new, unseen take in the world of dramatic horror.
2019 / 93 minutes / 16×9 / Color / A Film by Matt Ralston
HOW TO ORDER:
Public Performance and Digital Site Licenses are available through Soundview Media Partners. To inquire or to place an order, write to info@soundviewmediapartners.com or simply choose from the options below:
For group screening prices, please inquire.
In-home/personal use DVDs available on Turner Classic Movies https://shop.tcm.com/what-we-dont-say/760137362999, Amazon https://amzn.to/2SLF7e7 and wherever fine films are sold.
Prefer digital? Avail at Amazon https://amzn.to/32jGO8c, FandangoNow as well as Vimeo (below) and others.
WATCH THE TRAILER, FALL IN LOVE…