"A film offering a harsh glimpse of an ugly element of contemporary East African life, this is highly recommended." – Video Librarian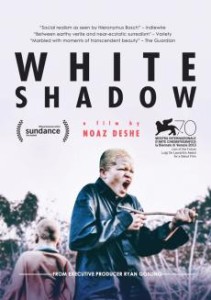 A film by Noaz Deshe
Since 2008, albinos in Tanzania have become human targets. Witch doctors offer huge sums of cash for their body parts to be used in magic potions. From 2008 to 2010, more than 200 witch-doctor inspired murders occurred. As a local saying goes: "Albinos do not die, they just disappear."
This is the story of Alias, an albino boy on the run. After his father's murder, his mother sends him to the city. His uncle Kosmos, a truck driver, takes care of him. Alias learns fast in the city, selling sunglasses, DVDs and cellphones, it will not take long before the boy experiences at first hand the difficulties of life, and of being different.
A multi-award winner, White Shadow has garnered incredible critical acclaim including: 
Durban International Film Festival (Best International Director)
East End Film Festival (UK) (Best Feature)
Era New Horizons Wroclaw International Film Festival (Best Film, Audience Award)
Geneva Black Movie Festival (Prix Boréal du Public)
SFIFF San Francisco Film Society (Special Jury Prize)
Venice International Film Festival (The Luigi De Laurentiis Lion of the Future Award for Best Debut Film)
115 minutes on 1 disc + bonus material (DVD only) / Swahili w/ English Subtitles / 2013
Bonus material includes: The Day We Found Hamisi, Outside the Village, Tandika Center, Dar Es Salaam and more…
HOW TO ORDER:
Public Performance and Digital Site Licenses are available through Soundview Media Partners. To inquire or to place an order, write to info@soundviewmediapartners.com or simply choose from the options below:
For group screening prices, please inquire.
In-home/personal use copies are available on Amazon: http://amzn.to/1Ujugih
WATCH THE TRAILER