Alzheimer's took her memory. Nothing can take her spirit.
Lee Gorewitz is a feisty, opinionated septuagenarian who's given to wanderings and philosophical ruminations on the nature of things, even as she struggles to navigate the increasingly confused and confusing landscape of Alzheimer's disease; she's in its middle stages.
This affectionately observational documentary challenges preconceptions of illness and aging and is a total immersion into the fragmented day-to-day experience of dementia.
You're Looking at Me Like I Live Here and I Don't is the first documentary ever filmed entirely in an Alzheimer's care unit and the first told from the perspective of someone with the disease. Unflinchingly realistic and woefully charming, if memory serves, it's a film you won't soon forget.
"Unflinching. Bold." – The New York Times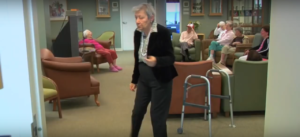 "Stunning. Riveting." – The Huffington Post
"Essential Viewing." – Neurology Today
"A powerful portrait." – Video Librarian
Official Selection at Big Sky Film Festival, DocAviv Documentary Film Festival, Camden International Film Festival
79 Minutes / 2010 / Color / English / Produced, directed and written by Scott Kirschenbaum
HOW TO ORDER:
Public Performance and Digital Site Licenses are available through Soundview Media Partners. To inquire or to place an order, write to info@soundviewmediapartners.com or simply choose from the options below:
For group screening prices, please inquire.
In-home/personal use copies are available on Amazon: https://amzn.to/3jpP23x
Watch the trailer: