Selling into the Educational/Institutional Market can be highly rewarding both financially and in terms of getting the message of your film out. Whether you intend a do-it-yourself campaign or want to explore the use of physical and / or digital aggregation, Soundview Media Partners can help you navigate the many options available to you when considering your approach to these market sectors both in terms of Universities, Corporations, Organizations and North American Public Library Systems. For information about how Soundview can help you understand and exploit this market, write to info@soundviewmediapartners.com today.
Marketing  to US Public Libraries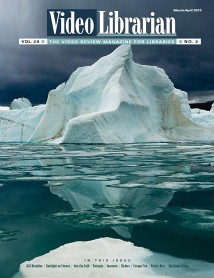 Soundview Media Partners represents Video Librarian, the leading editorially-based publication for DVD suppliers to reach U.S. libraries, media buyers specifically.
Video Librarian is a very cost effective and results oriented approach to selling to libraries. The publication is subscriber-based. Librarians and Media Buyers pay to receive it. They want it and it serves them as an ongoing reference tool. The Video Librarian site (www.videolibrarian.com) is also subscriber based, offering a major data-base of information that is presented in a way that institutional buyers can digest.
Advertising in Video Librarian is simple, straight-forward, and the publication has a phenomenal reputation as a valued tool for media buyers. Ad rates start as low as around $300 with no further commitment. Video Librarian is published 6 times per year (January, March, May, July, September and November).
If you are interested in exploring this cost-effective approach to selling into this robust marketplace, contact Soundview for rate cards and media kits at info@soundviewmediapartners.com
*March 2013 Cover. Photo Credit Sebastian Copeland from his film "Into the Cold"
SAMPLE EDITION SeptOct14VideoLibrarian digital edition