Last Shop Standing: The Rise, Fall And Rebirth Of The Independent Record Shop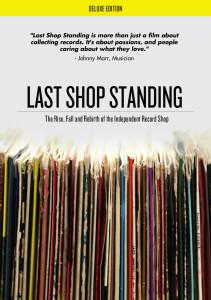 Released to critical acclaim and enthusiastic audience reactions since its UK premiere, Last Shop Standing – the Rise, Fall and Rebirth of the Independent Record Shop was chosen as the official record store day film for 2013.
"Inspired by Graham Jones's titular book, and told in three acts (the subtitle—"The Rise, Fall and Rebirth of the Independent Record Store"—says it all), Pip Piper's documentary is a love letter to the music lover's cathedral: the record store. HIGHLY RECOMMENDED" – Video Librarian
The film charts the rapid rise of record shops in the 1960's, 70s and 80's, the influence of the chart, the underhanded deals, the demise of vinyl and rise of the CD as well as new technologies. Hear from over 20 record shop owners and music industry leaders such as Tony Wadsworth as well as musicians including Paul Weller, Johnny Marr, Norman Cook, Billy Bragg, Nerina Pallot, Richard Hawley and Clint Boon as they all tell us how the shops became and still are a part of their own musical education, a place to cherish and discover new bands and new music.
The DVD is a Special Deluxe version of the film with 20 minutes of extras and outtakes.
"Last Shop Standing is a great window into the minds of record store people and artists who share a passion for music. It's just plain cool and anyone who supports record stores, or worked in a record store, or supports their local record store, will really enjoy it." – Michael Kurtz, Co-founder, Record Store Day
70 minutes on 1 disc
HOW TO ORDER:
Public Performance and Digital Site Licenses are available exclusively through Soundview Media Partners. To inquire or to place an order, write to info@soundviewmediapartners.com or select from the License options below:
For group screening prices, please inquire info@soundviewmediapartners.com
In-home/personal use copies are available on Amazon: http://amzn.to/1TPIaKt
WATCH THE TRAILER