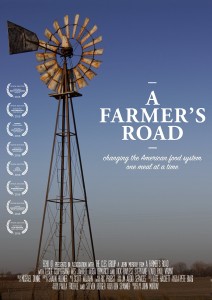 A feature-length documentary about changing America's food system one meal at a time…
A Farmer's Road tells the story of how two PhD soil scientists traded the security of academic tenure for the relentless challenges and economic uncertainty of operating a Grade A goat dairy and farmstead creamery in central Illinois. Surrounded by commodity-based agribusiness, they strive to embody the core principles of sustainability.
Using milk from their herd of Nubian and LaMancha goats, Leslie Cooperband and Wes Jarrell produce artisan goat milk cheeses, gelato, and cajeta, which are showcased during elaborate bi-weekly slow food dinners on the farm.
The film follows them over a four-year period capturing the transformation of a previously cash grain landscape into diversified perennial crops and livestock . Environmental stewardship, economic viability, and social responsibility are at the core of the film's educational message. As they engage with the community at farmers' markets, on-site dinners and breakfasts, and agricultural assemblies, their mission to educate the public about the benefits of locally-sourced small-farm products is literally changing the American food system one meal at a time.
Winner, Silver Award 2016 – Atlanta International Film Festival
Winner, Spotlight Award –  Mosaic World Film Festival
Winner, Best Food Film 2016 – International Film Festival North Hollywood
Official Selection at One Earth Film Festival, Great Lakes Environmental Film Festival, Newburyport Documentary Film Festival
75 minutes / color
HOW TO ORDER:
Public Performance and Digital Site Licenses are available through Soundview Media Partners. To inquire or to place an order, write to info@soundviewmediapartners.com or simply choose from the options below:
For group screening prices, please inquire.
In-home/personal use copies are available on Amazon: http://amzn.to/2c1uRee
WATCH THE TRAILER
A Farmer's Road – Trailer from John Murray on Vimeo.