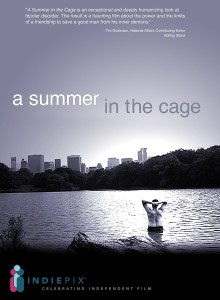 "There are some films that are just so powerful, sensitive and challenging that it's hard to restrict the adjectives used to describe them and still convey their impact.  A Summer in the Cage, by Ben Selkow, is one such film… a tremendous achievement" – Christian Conjectures
Produced in association with Sundance Channel, A Summer in the Cage is a feature-length documentary about one man's battle with manic-depressive illness – a brain disorder that causes unusual shifts in a person's mood, energy, and ability to function marked by manic highs and depressive lows, also known as bipolar disorder.
The film begins before Sam's diagnosis with bipolar disorder and follows him through his seven-year battle to repair the damage of delusional manic episodes, overcome paralyzing depressions, and escape the legacy of a bipolar father who committed suicide when Sam was just eight years old.
During the seven years of documenting this story, a tenuous triangle forms between Sam, the filmmaker, Ben Selkow, and the filmmaking process itself. Sam and Ben's relationship is brought to a dramatic precipice by Sam's cycle of manic episodes and a light is eventually cast on the ethical responsibilities of the filmmaker to his subject. While Sam's life deteriorates on screen, the question is asked: "Are the wider benefits of showing an audience someone's plight worthwhile if the very process of making the documentary may be damaging the subject?"
Featuring interviews with world-renowned mental health clinician and author Dr. Kay Redfield Jamison of Johns Hopkins University, A Summer in the Cage is being used as a training and advocacy tool. It has also been screened at law schools, universities, federal defenders' offices, psychiatric care provider, awareness, family and support groups.
"Emotional" – NY City Voices, A Peer Journal for Mental Health Advocacy
82 minutes / color / Directed by Ben Selkow
HOW TO ORDER:
Public Performance and Digital Site Licenses are available through Soundview Media Partners. To inquire or to place an order, write to info@soundviewmediapartners.com or simply choose from the options below:
For group screening prices, please inquire.
In-home/personal use copies are available on Amazon: http://amzn.to/2flZKHU
WATCH THE TRAILER