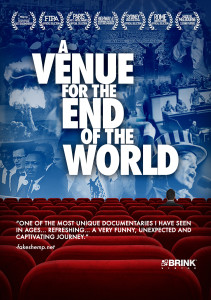 What does it feel like to have half a million people in the palm of your hand?
A film by Aidan Prewett
Haunted by uncanny similarities between Nazi stage techniques and the showmanship employed by modern entertainers, a filmmaker investigates the dangers of audience manipulation and leader worship.
Features interviews with and insights from Ian Anderson (Jethro Tull), Dick Cavette, Country Joe McDonald, Michael Shrieve (Santana), Chip Monck (head of tour production for The Rolling Stones), D.A. Pennebaker (film director/editor), Dale Bell (Associate producer "Woodstock") and many more.
"I found myself catching on to some of his shrewd tactics midway through the film and spent the rest of it in awe of his filmmaking." – Fakeshemp
Best Documentary: Highway 61 International Film Festival
Best Documentary: Melbourne Underground Film Festival
Official Selection at FIPA, Paris Art and Movie Awards, Sydney World Film Festival, Rome Cinemavenere and more
95 minutes on 1 disc
HOW TO ORDER:
Public Performance and Digital Site Licenses are available exclusively through Soundview Media Partners. To inquire or to place an order, write to info@soundviewmediapartners.com or choose from the License Options below:
For group screening prices, please inquire info@soundviewmediapartners.com
In-home/personal use copies of the DVD are available on Amazon: http://amzn.to/1okXyEL or stream it if you prefer https://amzn.to/2IqmPYx. 
WATCH THE TRAILER