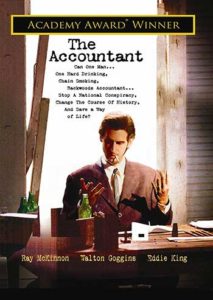 Exploring the plight of small farmers in our bank-dominated society, this Academy Award Winning ® film tells the story of a mysterious accountant whose remarkable mathematical skills just might save the O'Dell family farm. It is as appropriate today as it was when it received its Oscar in 2001.
Armed with a keen ability to add, an unquenchable thirst for bottled beer, and a stack of receipts, the accountant takes the O'Dell brothers on a strange journey that reveals the plight of America's family farms. A cult classic with many passionate supporters, the film again resonates well during these hard economic times.
Stars writer/director Ray McKinnon (Rectify, O Brother Where Art Thou,  Deadwood, The Blind Side) and Walton Goggins (Justified, The Hateful Eight, The Shield).
"As hysterical as it is haunting, and featuring a brilliant performance from McKinnon, "The Accountant" was the best film of the Austin Film Festival of any length no matter how one adds it up" – Film Threat
"You can tell that they put their hearts into this film. It's well-made, superbly written, and well-acted with a great blend of humor, quirkiness, and an effective message. It deserved the Oscar win." – Smith's Verdict
Awards include
Winner of the 2001 Academy Award for Best Short Film.
Atlanta Film Festival Won, Jury Award, Best Narrative Short
Austin Film Festival, Won, Short Film Award
Slamdance Film Festival, Won, Spirit of Slamdance Award
Washington DC Independent Film Festival, Won, Audience Award, Best Fiction Short Form
40 minutes on 1 disc / A 2001 film by Ray McKinnon.
HOW TO ORDER:
Public Performance and Digital Site Licenses are available through Soundview Media Partners. To inquire or to place an order, write to info@soundviewmediapartners.com or simply choose from the options below:
For group screening prices, please inquire.
In-home/personal use copies are available on Amazon: http://amzn.to/2mQnc6p
WATCH THE TRAILER