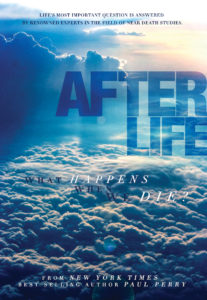 Life's most important questions are asked and answered by renowned experts in the field of near death studies…
Afterlife explores "What happens when we die? Is there life after death? Is there life after life?"
From the New York Times best selling author Paul Perry, the creator of such films as "Dali's Greatest Secret", "The Light Beyond: A Talkumentary With Raymond Moody, Md", "On Life, Death and the Pursuit of the Afterlife" and "The Secret Mummies of Lisbon, Afterlife is a revealing documentary that stars noted researchers Raymond Moody, MD, PhD; and Jeffrey Long, MD, and features emotionally charged interviews with people who have crossed the threshold of death and returned to tell their story.
60 minutes on 1 disc / 2011 / color / Directed by Paul Perry
HOW TO ORDER:
Public Performance and Digital Site Licenses are available through Soundview Media Partners. To inquire or to place an order, write to info@soundviewmediapartners.com or simply choose from the options below:
For group screening prices, please inquire.
In-home/personal use copies are available on Amazon: http://amzn.to/2FQCsZ9
WATCH THE TRAILER