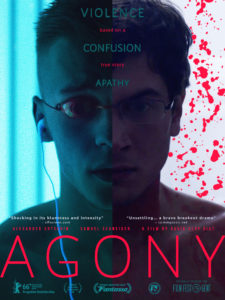 "Shocking in its bluntness and intensity" – Offscreen.
Based on the true story… A young woman is murdered, her body dismembered, its parts dumped across Vienna. Two suspects emerge without a clear motive: Christian, a law student who sells concessions part-time at a movie theater, and Alex, an image-obsessed rapper/boxer.
Each young man is trapped in his expectations, set against the abstraction of a violent postmodern newsscape. One of them goes berserk and becomes a killer.
Amounting to much more than a slasher movie, AGONY (aka AGONIE) is a split-narrative character study, comparing two distinct male millennial personalities whose stories do not overlap, save for the fact that they each live in Vienna- even if two distinct Viennas.
Poignant questions of machismo and sexual identity are deftly brought to light. Based on the true story of a shocking and inexplicable murder.
Featuring Samuel Schneider, Alexander Srtschin, and Alexandra Schmidt
"The neat trick Diaz pulls off with Agonie is the slow reveal of the similarities Alex and Christian share without the pair spending a moment together on screen." – FilmThrills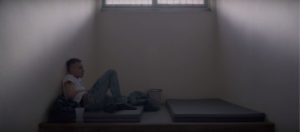 "Unsettling… a brave breakout drama" – ComingSoon.net
"There's so many variables. Agonie is a story that just happens without explanation, and it works." – Letterboxed
Nominated, Best First Feature Award, Berlin International Film Festival
Nominated, Best Directorial Debut, Camerimage
Nominated, Best Cinematography Debut, Camerimage
2016 / 93 minutes / color / German with English subtitles / A film by David Clay Diaz
HOW TO ORDER:
Public Performance and Digital Site Licenses are available through Soundview Media Partners. To inquire or to place an order, write to info@soundviewmediapartners.com or simply choose from the options below: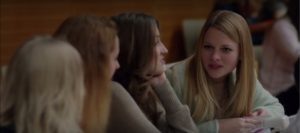 For group screening prices, please inquire.
In-home/personal use copies of the DVD are available on Amazon: https://amzn.to/2A4hGnl
WATCH THE TRAILER