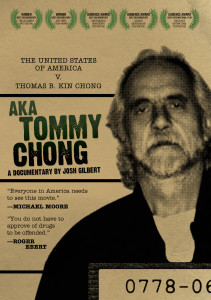 "Who could have known that Tommy Chong would turn out to be a great teacher of civil liberties and constitutional law, but his outrageous prosecution should be an object lesson for all who cherish our basic rights." – Alan Dershowitz, prominent scholar on United States constitutional law and criminal law, and a leading defender of civil liberties
At the height of the Bush administration, Tommy Chong of Cheech and Chong was charged with selling bongs over the internet and sentenced to nine months in federal prison. As part of the government's $12 million 'Operation Pipe Dreams' drug paraphernalia sting operation, Chong, a vocal opponent of Bush's handling of the War on Terror, was singled out among 55 defendants to serve time. Filmmaker Josh Gilbert captures the post-prison, avuncular Chong as he turns his SWAT team arrest into hilarious stand-up material. But the laughs are seasoned by the recognition of our government's questionable priorities and its shameless use of the judicial system to scapegoat a counterculture icon.
Stars Tommy Chong and features Cheech Marin, Selby Chong, Lou Adler, Paris Chong, Bill Maher, Eric Schlosser, Peter Coyote, Jay Leno and George Thorogood
"A touching portrait of a gentle soul who falls down the rabbit hole of anti-drug insanity." – Toronto Sun
"Everyone in America needs to see this movie … The real stoners in this excellent documentary are the administration officials drunk with power and out of control, and a nation of otherwise good people who've been given the worst drug of all–fear." – Michael Moore
"You do not have to approve of drugs to be offended." – Roger Ebert
Winner, High Times Story Award – Best Documentary
Winner, Best Documentary – HBO US Comedy Arts Festival
Audience Award and Best Documentary – Calgary Underground Film Festival
Audience Award, Best Documentary – San Francisco Independent Film Festival
Audience Award Best International Film – Vancouver International Film Festival
80 minutes on 1 disc
HOW TO ORDER:
Public Performance and Digital Site Licenses are available exclusively through Soundview Media Partners. To inquire or to place an order, write to info@soundviewmediapartners.com.
For group screening prices, please inquire.
In-home/personal use copies are available on Amazon: http://amzn.to/1KMOqCT
WATCH THE TRAILER