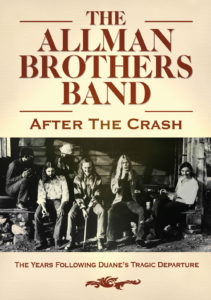 The story of Rock Music can not be told without a focused chapter on the impact that resulted from the creative explosion of The Allman Brothers.
When the Allman Brothers Band broke out of Macon, Georgia in the late 1960s, it was as standard bearers of a new movement known as 'Southern Rock.' Although they remained an underground act for some time, their distinctive sound and dynamic live shows, all but dominated by the unique guitar playing of Duane Allman, ensured that they slowly but surely built a dedicated fan base and an ever rising profile in the media.
The sudden death of Duane in 1971, following a tragic motor cycle accident, came at a time when the band was reaching the creative peak of their career, and had honed their musicianship to such an extent that they were ready to carry the quality of their live performances into the recording studio.
As the Allmans began a new chapter in their story, the road ahead, while embellished by some of the finest music to come out of America in the 1970s and beyond, was also fraught with difficulty, hardship, and further tragedy, but eventually proved a triumph for one of rock 'n' roll's greatest survivors.
This film, from the producers and directors of the critically acclaimed Song Of The South – Duane Allman & The Rise Of The Allman Brothers Band, this time takes the story of the post-Duane years and, with the contributions of past members and those closest to the band across this period plus superb archive footage and classic interview material, pieces together in the best way possible the fascinating history of this legendary group which continues to perform and record almost 50 years after first treading the boards as a young but hugely credible and enormously ambitious collective.
This is the story of the post-Duane Years with contributions from past band members and those closest to the band and its music.
Featuring Dickie Betts, Willie Perkins, Johnny Sandlin, Dick Wooley and many more.
110 minutes on 1 disc / 2016 / Directed by Tom O'Dell
HOW TO ORDER
Public Performance and Digital Site Licenses are available through Soundview Media Partners. To inquire or to place an order, write to info@soundviewmediapartners.com or simply choose from the options below:
For group screening prices, please inquire.
In-home/personal use copies are available on Amazon: http://amzn.to/2lDqGLd
WATCH THE TRAILER