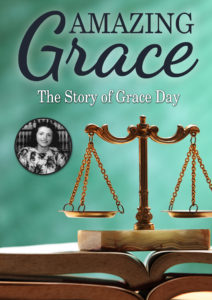 The 1940's were a tough time for women trying to enter male dominated professions.
Amazing Grace is the story of an Iowa-born woman who, despite the odds, entered the field of law and successfully navigated the challenges faced by the women of that era… the 1940's.
Her story is not only one of inspiration for women, but serves to challenge anyone trying to beat the odds of they face. Motivational and encouraging, this biographical documentary is perfect for women's studies and American legal history.
Originally broadcast on PBS.
When Grace Day decided to become a lawyer, she didn't expect to endure torment from her peers and professors. But once she entered law school, she discovered that most people there believed that women did not belong in the classroom or in the courtroom. And it wasn't only them. After she graduated, no firm in her small Missouri town would hire her.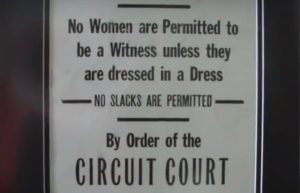 So Grace opened up a private practice and began representing women in divorce court. Soon, she became an expert in family law. Known as the lady lawyer who was tough on men, Grace was a woman ahead of her time, persevering, determined and trailblazing.
About Grace Day:
Born in 1926, Grace Steinberg Day passed away July 13, 2016 at the age of 89. She originally hailed from Onawa, Iowa, the daughter of Polish immigrants who journeyed to America after World War 1. Day attended college at the University of South Dakota with a focus on speech, dramatics and debate. Those interests led her to select what was, at the time, an unusual field for women – law. Grace was not the first woman to attend the University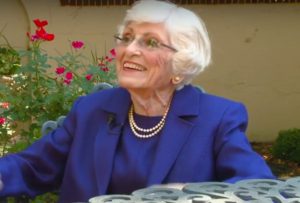 of South Dakota School of Law, but during her time in the late 1940's, she was the only woman attending.
Grace Day's fortitude and tenacity carried her through those challenging times when society, including her peers and professors, believed women did not belong in the profession. She would reflect later that "I'm not a quitter and had no intention of leaving law school." She married the love of her life, Milton "Boob" Day, who brought her to St. Joseph, Missouri to begin their new life. Together, they raised a family while Grace pursued her family law practice, and for more than 30 years was the only woman lawyer in St. Joseph. When no law firms would hire her, she struck out on her own with a private practice until the late 1990's when she was approached by the then-prominent law firm Shughart Thomson & Kilroy, now Polsinelli. Grace became known around town as a "lady lawyer" tough on men, but as her reputation grew, she began to represent men, as well as women, in divorce and custody cases. She liked to tell the story of asking the first man who approached her for representation why he selected her. His response was "so my wife didn't get you first." She was equally proud of advocating for men in custody cases during a time when the courts typically selected mothers as the primary caretaker. Her law partner Dan Boulware describes Grace "An icon, plain and simple. We are never going to see another one quite like her." She went on to represent hundreds of families in Northwest Missouri for 64 years, and earned accolades including Missouri Lawyer Weekly's "Woman of the Year," and became President of the St. Joseph Bar Association. Nationally, she gained prominence as the International President of B'nai B'rith Women's and made frequent trips to Washington, D.C. to meet with dignitaries including President Gerald Ford, Secretary of State Henry A. Kissinger and Senator Edward M. Kennedy. Grace retired in 2013.

Whether Grace realized it or not, she was a legal trailblazer for women in law. She opened the door for future generations of women attorneys and leaves behind a powerful legacy although she was always too modest to admit her impact.
2016 / 28 minutes
HOW TO ORDER:
Public Performance and Digital Site Licenses are available through Soundview Media Partners. To inquire or to place an order, write to info@soundviewmediapartners.com or simply choose from the options below:
For group screening prices, please inquire.
In-home/personal use copies are available on Amazon: http://amzn.to/2AwPMRz
WATCH THE TRAILER