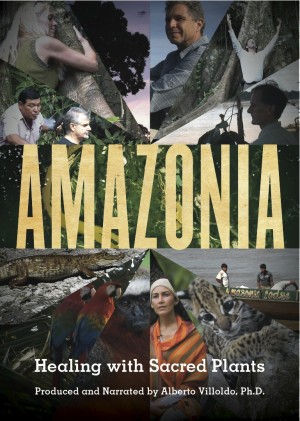 Alberto Villoldo, psychologist, anthropologist and bestselling author, has studied the shamanic healing practices of the Amazon for over 25 years.
In this beautifully filmed documentary he reveals secrets of the jungle's sacred plants and the healers who administer them, deep in the Amazon rainforest.
'Amazonia' chronicles the work of the master shamans of Peru's Madre de Dios River in the Amazon watershed. Dr. Villoldo explains the process and theory of the powerful brew made by the shamans known as Ayahuasca, the 'vine of the souls.'
"Director Miguel Heded Abraham intersperses handsome shots of the jungle, exotic birds, animals, and the river itself with interviews of the participants and some medical experts" – Video Librarian
(70 mins on 1 disc / English)
HOW TO ORDER:
Public Performance and Digital Site Licenses are available through Soundview Media Partners. To inquire or to place an order, write to info@soundviewmediapartners.com or simply choose from the options below:
For group screening prices, please inquire.
In-home/personal use copies are available on Amazon: http://amzn.to/29Bm82B
WATCH THE TRAILER
Also available from Alberto Villoldo is SHAMAN HEALER SAGE https://soundviewmediapartners.com/?p=978