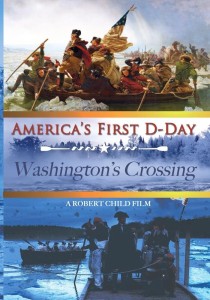 A Story of Bravery, Seduction and Saving a Revolution
3.5 stars. "America's First D-Day tells the story of the general who would become the first president of the United States of America. Combining dramatic re-enactments with interviews of historians, the documentary centers on George Washington's crossing of the Delaware—a military maneuver that helped turn the tide in the fight for American independence. America's first "D-day" turns out to be a tale of intrigue, seduction, controversy, strategy, politics, and death. Highly recommended." – Video Librarian
By the end of 1776, the American Revolution was all but lost. General George Washington made a bold move that saved the American cause. The Continental Army crossed the Delaware River on Christmas Day to attack the Hessians at Trenton. This was America's First D-Day.
A Robert Child Film
Robert Child is an Emmy® nominated writer and director. He has directed films all over the world including; Canada, UK, France and Belgium. Child, has garnered more than 25 writing and directing awards and is one of only a handful of directors whose work has screened in the Congress of the United States.
47 minutes on 1 disc
HOW TO ORDER:
Public Performance and Digital Site Licenses are available through Soundview Media Partners. To inquire or to place an order, write to info@soundviewmediapartners.com or select from the License Options below:
For group screening prices, please inquire.
In-home/personal use copies are available on Amazon: http://amzn.to/1Tp4I5p
WATCH THE TRAILER