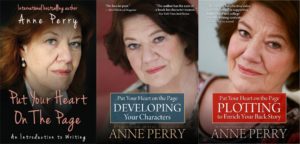 At every college and university there are students studying creative writing. Many aspire to write novels.
With over 90 novels published (with translations into 14 languages) and over 25 million books sold, acclaimed British novelist Anne Perry has created a virtual master class and educational tool series entitled Put Your Heart on the Page. The series now consists of three films:
Plotting to Enrich your Back Story
You can read about these individual films by clicking the hyperlinks above.
"Put Your Heart on the Page finds Perry covering the different parts of working on a story—themes, plot, dialogue, exposition, settings, scenes, research, and rewrites—with text exercises bookending the chapters to help a prospective author flesh out ideas. Recommended" – Video Librarian
SAVE 30% on this 3 film collection!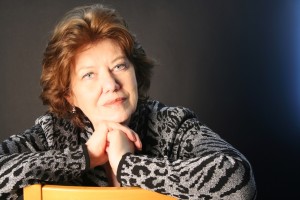 When purchased individually as DVD w/PPR, the value is $600. When purchased as a three film collection, you can save 30% on either the DVD w/PPR set OR the digital licenses.
Selected as one of the 20th Century's '100 Masters of Crime' – The Times!
"Like Thakeray edited by Elmore Leonard" – Booklist
"First Rate" – NY Times
"Perry's books grapple with questions of sin and repentance, the price of redemption and forgiveness" – The Guardian
A sampling of Ms. Perry's novels include
THE CATER STREET HANGMAN
CALLANDER SQUARE
PARAGON WALK
RESURRECTION ROW
TRAITOR'S GATE
THE FACE OF A STRANGER
A DANGEROUS MOURNING
DEFEND AND BETRAY
WEIGHED IN THE BALANCE
TREASON AT LISSON GROVE
DORCHESTER TERRACE
DEATH ON BLACKHEATH
HOW TO ORDER:
Public Performance and Digital Site Licenses are available through Soundview Media Partners. To inquire or to place an order, write to info@soundviewmediapartners.com or simply choose from the options below: