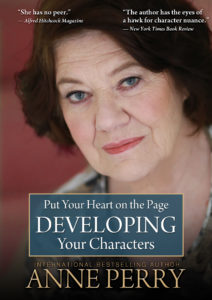 Part 3 of the Anne Perry Put Your Heart on the Page series.
Developing Your Characters, like its predecessors, aims to give the viewer an all important one-on-one learning experience which they can view at their leisure, stopping to take in what is being imparted, or to consider their own responses to questions posed.
There is homework in the way of exercises for those who are writing, to think about, such as "what does each main character want?  What do they need in their life". This installment, like Ms. Perry's previous titles provides a motivating force for aspiring novelist.? Anne Perry provides the insights personally. The exercises have been compiled by Anne and her long time literary agent Meg Davis.
The previous titles can be viewed at Put Your Heart on the Page and Plotting to Enrich your Back Story.
Approx. 1 hour on 1 disc
HOW TO ORDER:
Public Performance and Digital Site Licenses are available through Soundview Media Partners. To inquire or to place an order, write to info@soundviewmediapartners.com or simply choose from the options below:
For group screening prices, please inquire.
WATCH THE ANNE PERRY TRAILER