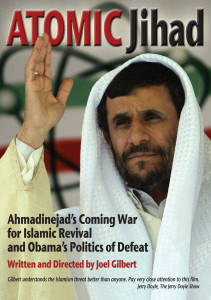 Atomic Jihad leaves little doubt that Iran is in the final stages of preparing for a "Coming War for Islamic Revival".
"Gilbert understands the Islamic threat better than anyone. Pay close attention to this film" – Jerry Doyle
By seeking to appease Ahmadinejad with "change" in U.S. Middle East policy, President Obama may have ushered in the a catastrophe for America. If successful in its nuclear program, Iran and its allies will possess the means to achieve their ultimate goals – the defeat of America and the return of Islam to past glory.
Written/Directed by Joel Gilbert / 100 minutes on 1 disc
"Atomic Jihad, the title of Joel Gilbert's latest socio-political documentary, is an attention-getter all right, but it's the subtitle – "Ahmadinejad's Coming War for Islamic Revival and Obama's Politics of Defeat" – that will earn it the required-viewing status it deserves among anyone still in the dark about the global big picture. In Atomic Jihad, excerpts of speeches of Iran's President Mahmoud Ahmadinejad run through the documentary, speeches that show him promising, over and over, the imminent restoration of Islam to the global pre-eminence it enjoyed until the Industrial Revolution, a pre-eminence that was not only economic and military, but also religious and political." – World Magazine
"Atomic Jihad will open your eyes to the rising threat of Islamist thoughts and goals and will help you understand why President Obama's views on "a new beginning with the Muslim world" don't mesh with President Ahmadinejad's views. I highly recommend this very informative film." – Act for America
===========================================
HOW TO ORDER:
Public Performance and Digital Site Licenses are available through Soundview Media Partners. To inquire or to place an order, write to info@soundviewmediapartners.com or simply choose from the options below:
For group screening prices, please inquire.
In-home/personal use copies are available on Amazon: http://amzn.to/2fyDcom
WATCH THE TRAILER