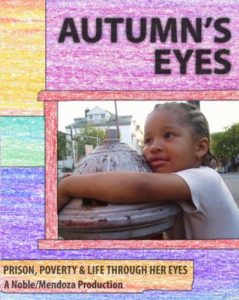 Autumn's Eyes is a compelling documentary about a 3-year-old girl who tries to navigate through the harsh reality of severe poverty, her teenage mother's incarceration, and looming foster care. Charming, obedient, and unable to fully comprehend the severity of her environment, Autumn is shielded from her own reality. Caught between the innocence of childhood and the growing necessity to be an adult, she represents hope to a family of women caught in the cyclical web of abuse, incarceration and poverty.
Autumn's Eyes captures this impressionable time in this child's life, and ask the greater question: is there truly hope for a child growing up in these circumstances? Through the perspective of a little girl, Autumn's Eyes explores this perilous state of hope.
"Mendoza and Noble's fine personal documentary looks at three generations of women in poverty from the perspective of Autumn Collier, a clever and observant 3-year-old girl in Jersey City. It is at heart a kind and sensitively filmed story of a little girl longing to reunite with her mother, and vice versa." – Austin Chronicle
"A painfully candid look at urban poverty"– efilmcritic.com
Festival Play included
San Francisco Black Film Festival (San Francisco, United States)
Urbanworld Film Festival (New York City, United States)
Bogota Film Festival (Bogota, Colombia)
New Jersey International Film Festival (New Brunswick, New Jersey)
New York Latino International Film Festival (New York, United States)
SXSW Film Festival (Austin, United States)
Woodstock Film Festival (Woodstock, United States)
59 minutes / A film by Gabriel Noble, Paola Mendoza / 2006
HOW TO ORDER:
Public Performance and Digital Site Licenses are available through Soundview Media Partners. To inquire or to place an order, write to info@soundviewmediapartners.com or simply choose from the options below:
For group screening prices, please inquire.
In-home/personal use copies are available on Amazon: http://amzn.to/2ib5FUS
Watch the trailer